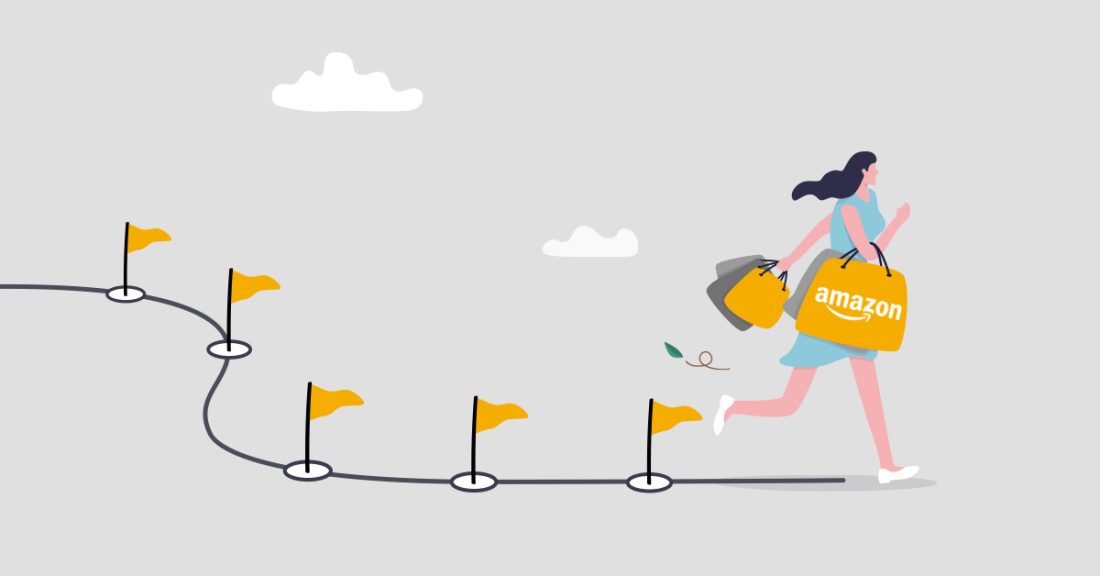 Exploring the Amazon Customer Journey
The "Customer Journey", simply put, is the way a potential customer goes from realizing they need a generic product to purchasing your product. Determining the way your targeted audience ends up at this point is vital, especially in the Amazon ecosystem where numerous other brands are competing to swoop in and direct that person their way instead.
The traditional marketing funnel considers three main stages for the customer journey: awareness, consideration, and decision. But remember — Amazon positions itself as a completely customer-focused company, with a philosophy promoting the user-centered purchasing journey. This means that the first three rules apply, but two equally important steps have been appended: brand retention and advocacy.
Let's break down these five steps so you can start adjusting your brand strategy accordingly — ensuring increased conversions and consumer loyalty.
The Awareness Stage
When a consumer sees something they have been wanting for a while, is looking for some retail therapy, or needs to replenish a basic household item, they've entered the Awareness Stage. Strong brand advertising, using Amazon's DSP, can generate interest and promote awareness for new products, driving consumers directly to the product before competitors cross their paths.
However, this hypothetical consumer may not have been targeted by DSP, causing them to search more generally. Once the consumer uses the Amazon search bar, (ie searching "blender"), they are in the Search Phase. Here, Sponsored Display or Video Ads go a long way, these placements provide prime real estate to help you stand out amidst the competition on the platform.
The Consideration Stage
At this stage, the consumer has narrowed down their search to a handful of relevant products and is weighing the pros and cons of each. Remember — today's consumers are much savvier and aim to inform themselves before making a purchase. They read through the Product Detail Page (PDP) carefully, disregarding products with 4 Stars or less, and carefully noting products with negative reviews. Once the consumer has found the product(s) they are interested in, they add it to their shopping cart.
If you've noticed that your PDPs have been receiving an uptick in visits, but purchases have remained stagnant, your product may be suffering in the Consideration Stage. Critically reevaluating the PDP's weak points (negative reviews, a lack of information in the bullets, etc.) and resolving the issues can improve your performance in this stage. If your products are having trouble making it to this stage, however, we'd suggest running Sponsored Product and Sponsored Brand campaigns to promote your catalog and make it an integral part of a potential customer's shopping journey.
The Decision Stage
Here the consumer is ready to meet their need and purchase the product. Many Amazon users log onto the platform ready to buy a specific product, in which case they're starting their journey from this stage. The two most effective ways of targeting potential customers here is through Sponsored Display ads and an optimized, detailed PDP. Your copy should be both informative as well as show the consumer they need this product, aiming to save your product from ending up being abandoned in the cart.
The Retention Stage
As we said before, conventional wisdom may end the customer journey in the preceding stage, but to succeed on Amazon, that's only the halfway mark. We define the Retention Stage as the brand loyalty phase, in which a consumer views the brand favorably and continues to transact with them. It is when the customer subscribes to a newsletter or buys additional products unrelated to their original purchase from the same brand because of their positive interaction with both the brand and its catalog.
Without a doubt, customer retention and loyalty are the most important goals for any brand. In order to perform strongly in this phase, your brand will need to optimize all products across the catalog to guarantee no consumer has a negative user experience. You'll also want to comply with Amazon's Retail Readiness for further optimization and better results with customer loyalty.
The Advocacy Stage
Once a consumer is loyal to a brand, the final step on the Amazon customer journey is sending them out to share their great experience with their community through word of mouth, direct reviews, etc. Remember that an essential part of Amazon optimization is product reviews and star ratings. Should the consumer buy that blender and absolutely love it, they'll probably write a positive review on Amazon — successfully bringing them into the Advocacy Stage.
Positive word of mouth is always a strong form of advertising, and in the digital age reviews, ratings, and recommendations exercise significant influence over a brand's image and trustworthiness. Customers want to know that a brand is consistent and actually delivers on its promises.
Analyzing Your Brand's Customer Journey
Understanding the customer journey is key for success on Amazon, but in order to reap the most reward you need to determine how conducive your brand is for a positive consumer experience.
Using tools such as Amazon Brand Analytics, you can quantify your brand's customer journey and try to spot both strong and weak points. Staying true to your core brand objective, understanding your potential consumer, and mastering the ecosystem in which your brand exists are necessary for success.
Want to drive more consumers toward your brand? We can help! Macarta is a full-service marketplace agency specializing in retail media to drive growth and sustained success for its brand partners. Reach out to us here, and let's get started.
Before you go…