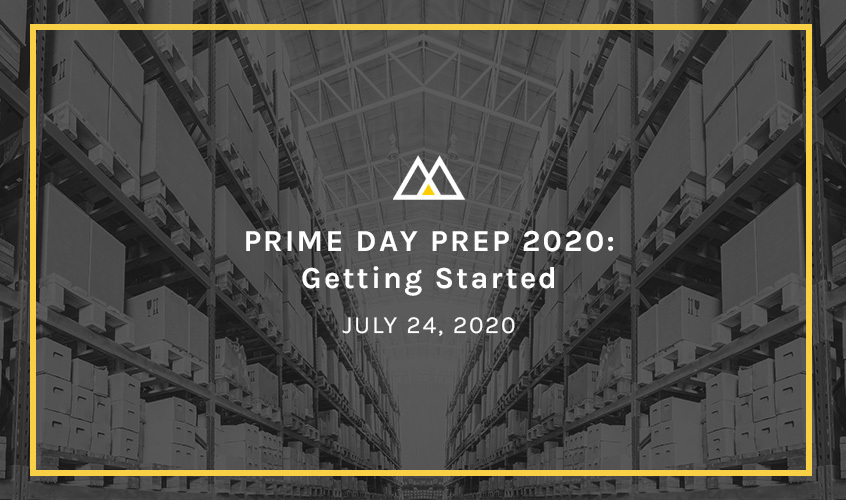 Prime Day Prep 2020: Getting Started
UPDATE: Prime Day 2020 will start October 13.
Planning for Prime Day is unlike any other this year. For the first time in its history, the sales event will not take place in the second week of July. The company has made a concerted effort to ensure that there is enough warehouse space for products that are still in high demand such as PPE, cleaning supplies, dry goods and more.
As a supplement to Prime Day, Amazon hosted a Big Style Sale with deals from Shobop, Adidas, Superga and others. Amazon was hoping to push summer clothing for shopping lovers, although it's unclear if the event had a large impact for retailers.
This year, with all of the uncertainty surrounding Q4, we want to help you build a strategy for Prime Day and beyond.  This is the first article of  a 3-part series that will help you navigate these tent pole events,  build an advertising strategy, prepare your content and allocate inventory. Prime Day 2020 is no longer a single day or month, it will define your Q4, so we're here to help you strategize for success. 

Prime Day Timeline
Below are key targets to hit for Prime Day. Because official dates have yet to be announced, these timelines may change – we will update this post regularly:
ASAP:

Budgeting

for Q4 is very much a marathon, not a sprint. Keep in mind that you will need to pace your budgets throughout October so you have enough time to build your campaigns leading up to Prime Day, the week of Prime Day, as well as the halo period. Keep your budgets flexible and be ready to pivot your strategy if necessary.

EARLY AUGUST: Given current warehouse restrictions we recommend

shipping your Prime Day inventory to Amazon as soon as possible

. It's been our experience that checking in products can take up to 8 weeks depending on the size, weight and quantity of your product. However, it's important to keep in mind that storage fees during Q4 may be higher than normal.

OCTOBER 5:

Prime Day is expected to happen the week of October 5th. We have yet to find out if this will be a one-day or two-day event like last year.

HALO PERIOD:

Retargeting

is an important post Prime Day strategy. However, if you can't afford to specifically retarget in the immediate days and weeks following Prime Day, you'll have the opportunity to do so leading up to Turkey 5.
*The submission for Prime Day Deals deadlines has already passed, however, Amazon may offer an extension.
Leveraging Your Resources
If your advertising budgets have been cut, consider utilizing these 3 free resources. In addition, combining these with paid advertising will only strengthen your strategy:
AMAZON LIVE

: This free streaming service is still an underutilized feature in the Amazon world. Consider running an Amazon Live on products you are highlighting for Prime Day leading up to and on the day of the event to increase traffic.

AMAZON POSTS

: Posts are a simple, easy way to repurpose your social content on Amazon. Amazon Posts appear on not only your product's PDPs, but on comparable competitor products as well.

SOCIAL MEDIA

: Now more than ever is the time to also lean into your social media following. If your advertising budget is tight, or has disappeared altogether, lean into optimizing your content and link to your Brand Store and specific PDPs on your social media channels.
Measuring Prime Day Success
It's hard to predict how Prime Day will perform this year. You may not see the same sales volume as 2019, and that's okay. It's important to consider the halo-effect leading up to and following this event. Since Prime Day will be so close to Turkey 5, gauge where your big Q4 push is going to be most effective. Based on your category, consider if it's more beneficial to make your push earlier or later in Q4.
This article is Part 1 of 3 in our 2020 Prime Day Preparation series. Be sure to follow us on LinkedIn and Instagram for the latest notifications and updates.
Have questions about Prime Day? We can help: