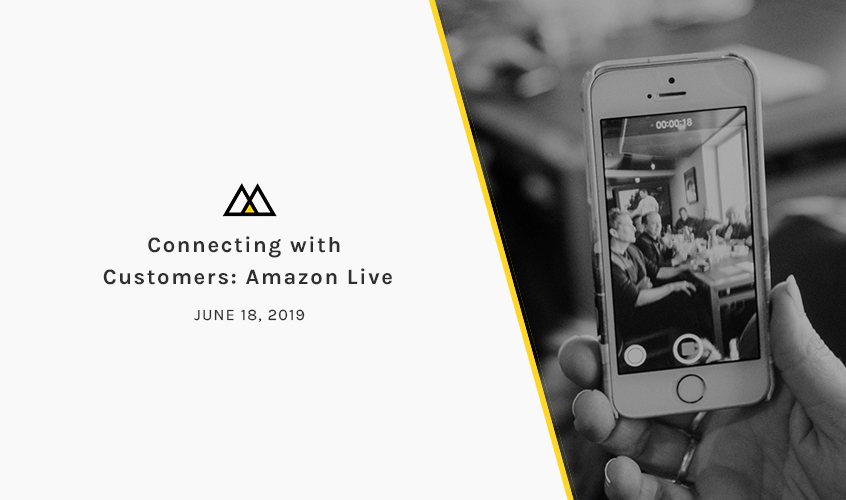 Connecting with Customers: Amazon Live
Since 1977 HSN has capitalized on live selling. Now, Amazon is looking to follow a similar model with Amazon Live.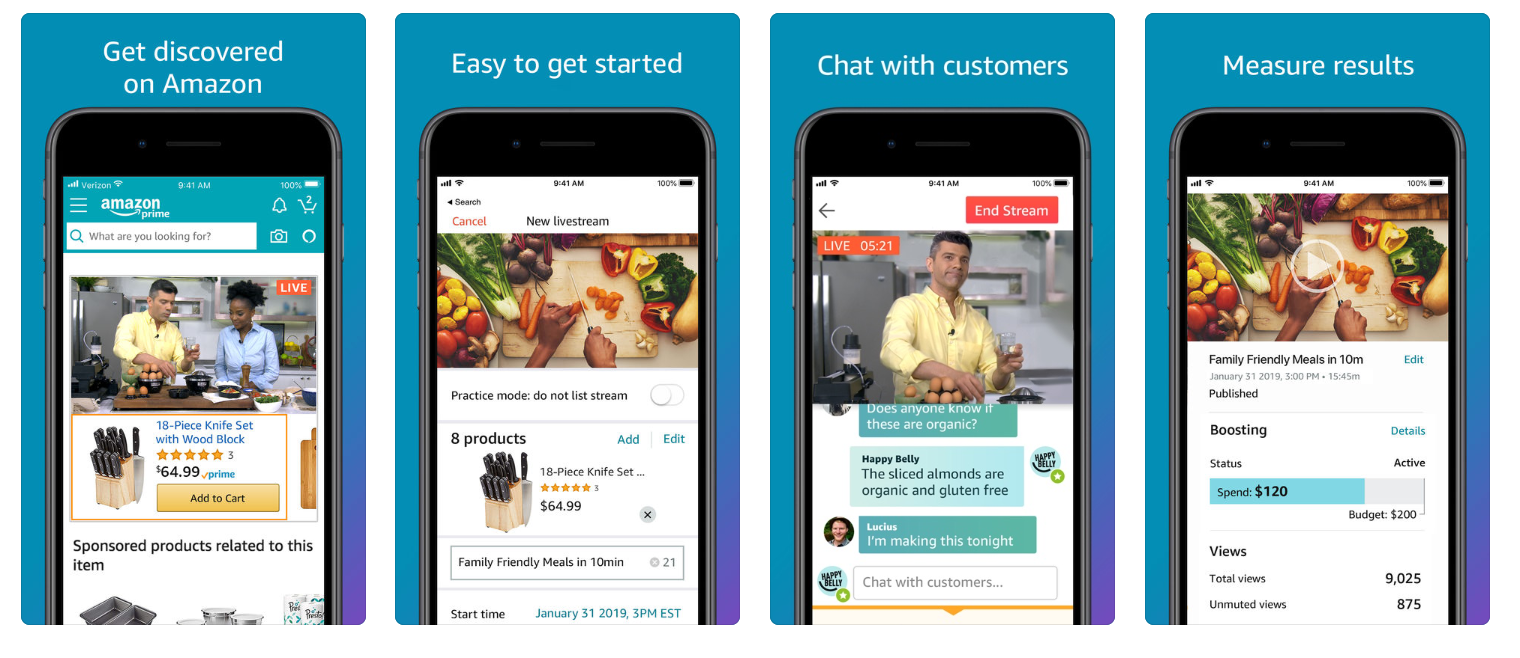 What is Amazon Live?
The Amazon Live Creator app helps brands connect with shoppers by livestreaming products. Customers can participate in a live chat with brand owners during the livestream and conveniently shop the products on display.
Why Use It?
Next to an in-store retail experience, video is one of the best ways for consumers to make informed purchasing decisions. 90% of users say that product videos are helpful in the decision process. Further, 76% of consumers and 85% of millennials say they've purchased a product or service after watching a video. Videos are helpful because they:
Help demonstrate use cases

Can more accurately represent details and features that photos might not be able to capture

Can help fill in the gaps left by photo and copy restraints

Improve brand awareness and customer loyalty
Beyond pre-recorded videos, the Amazon Live Creator feature has additional benefits:
Shoppers can easily shop your products next to the video player

You can engage with shoppers directly and answer questions in real time

Share promotion codes and deals to drive sales
What You Need to Know
Q: Where Do Livestreams Appear?
A: Several places…
Product Detail Pages

of products in the livestream: It's important to note that

you must be registered in Amazon's Brand Registry

to be eligible and for your products to appear on the detail pages. There are also certain categories that do not permit live streams to appear on the detail pages, but they will appear on the Amazon Live home page.

Your Amazon Store

: To do this, you must

email the Amazon Live team

for further details.

Amazon Live Home Page:

Livestreams will live

here

for at least 48 hours at no cost. However, depending on how saturated your category is, videos can appear for much longer.
Q: Does it cost money?
A: Creating videos within the Amazon Live Creator is free, however, you can pay to increase the visibility on your videos, similar to other Amazon ads. Boosting is only available for Brand Owners who use Seller Central and have permissions to Advertising within Seller Central.
Q: How does this help me sell?
A: The products you are showcasing will appear next to the livestream, making them easily shoppable.
Q: My agency is going to make a video on my behalf. Can they do that?
A: Yes! You can create a Guest Creator account so that an agency, influencer or brand rep can create a live video on your behalf.
Helpful Tips
Have 2+ people help with the livestream to answer questions as they arise

You can use an external camera for your livestream, or be sure to have a mobile device with high-quality resolution

You can edit the thumbnail of your livestream after, so create an attention-grabbing visual for the livestream that clearly displays the product

Have a strong Wifi connection
Amazon Live Home Page
Once videos are no longer live, the videos will live on amazon.com/live. The Amazon Live Home Page has a similar user experience to that of YouTube's home page. There is a Featured category at the top of the page and beyond that videos are divided into categories.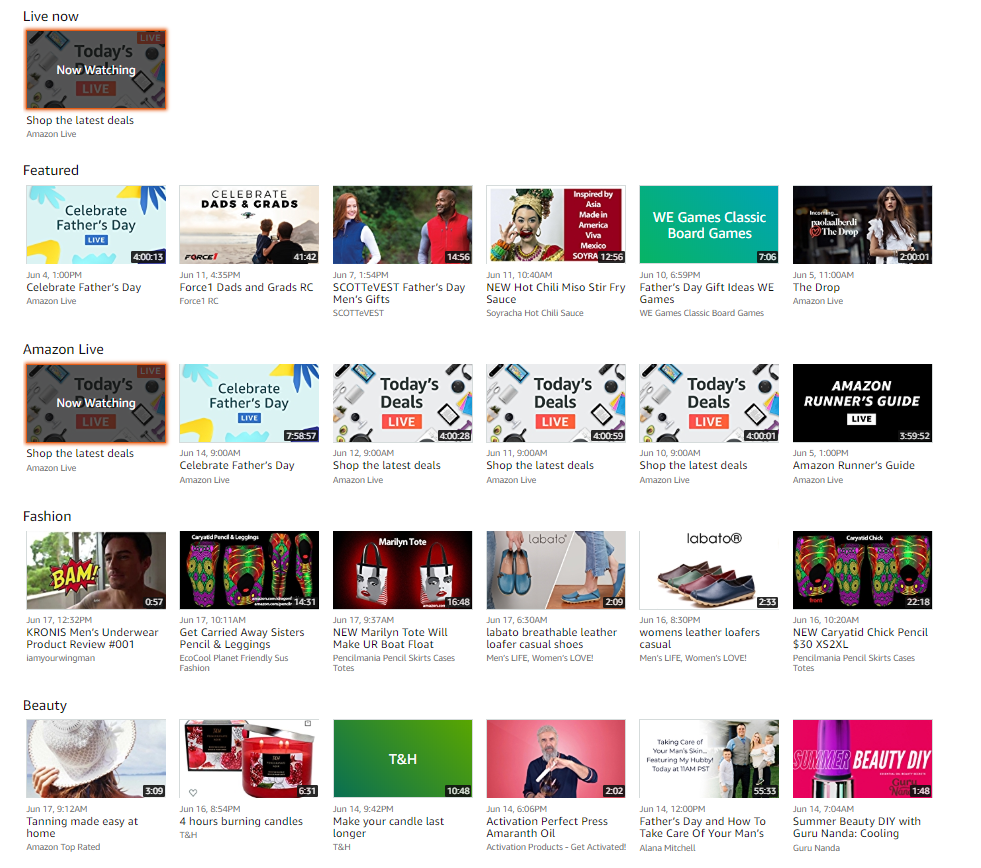 New beta means unique traffic and shopper engagement. There are great opportunities within the following categories, although all categories have an upper hand due to the nature of this new feature:
Beauty

Health

Automotive

Toys & Games

Pets

Handmade

Books
Final Thoughts
The Amazon Live Creator is still a growing program that launched in early 2019. In typical Amazon fashion, there is still a lot of testing happening around Amazon Live the creator app. This is good and bad news for brands. While the platform and app will experience changes over the coming months and even years, now is also a great time to get on the platform while it is still new to test what works for your brand and begin measuring results to see if it's worth making future investments with the app as the platform grows.
Amazon Live Creator Resources: Amazon Live Best Practices | Amazon Live Creator Basics