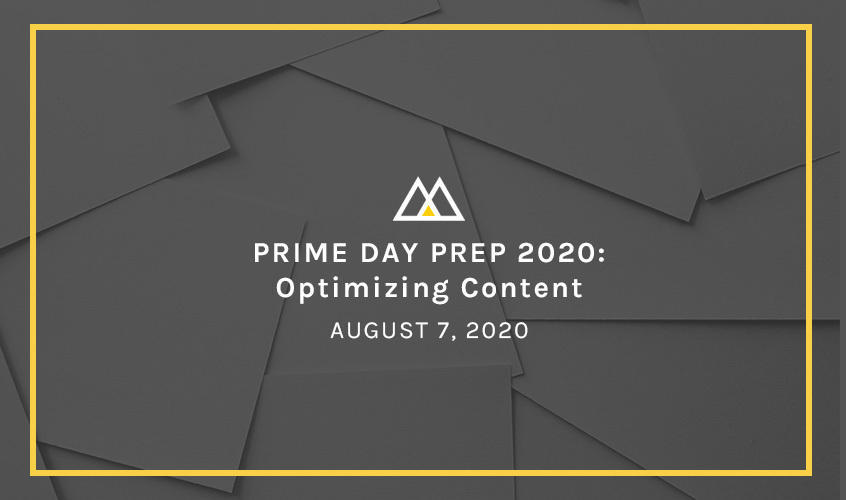 Prime Day Prep 2020: Optimizing Content
UPDATE: Prime Day 2020 will start October 13.
This post is part three of our final Prime Day 2020 preparation series. In case you missed it, we covered general guidelines for Prime Day, followed by a detailed explanation of the best advertising strategies you can employ for Prime Day. 
Today we're covering all things content related, from creative to copy. Even if you aren't participating in Prime Day, now is a great time to optimize your content ahead of the holiday season so you can stand out from the competition. 
Keep in mind, you will need to implement content changes with enough time to build relevancy and organic indexing.   Amazon's A9 algorithm ranks products in search results, so make sure your optimizations are strategic and effective. Regardless of your content changes appearing  quickly on your detail page, it can take time to positively impact your page rank. While ads may drive customers to your page, it's the great content that's going to make the sale:
Brand Store Updates
Use Prime Day as a way to kick off the holiday season. Start by creating a dedicated Brand Store subpage that highlights products included in a Prime Day campaign or focus items you want to push during this high-traffic period. These curated shops help extend the exploration phase of the customer journey — the longer a shopper is on your brand store, the more likely they are to convert.
PDP Updates
Title

: Your title is the most important element of the detail page; it ensures that your product appears in search. Titles should be consistent across your brand catalog; they should be direct yet strategic including 2-3 high-ranking keywords in addition to the core product information and brand. Do not "stuff" your titles. It's confusing to the customer and could get your listing pulled from search.

Bullets

: It is imperative to consistently pull converting keyword data to feather into your copy. If you haven't taken some time to update your keywords, now is the time to update the keywords in your bullets and in the backend of your product listings. Make sure you are adhering to your category's character count and only include terms relevant to your product, brand or category. 

Images

: If you haven't already, take advantage of all 7 PDP images. Include both important product images as well as lifestyle and other supplemental imagery that helps educate the customer's purchase.. Videos are also a great way to help instruct and educate the consumer – each listing is allowed one brand video..

A+ Content

: This is a great way to help further connect with the consumer and tell your brand story. A+ Content allows you the opportunity to provide additional information that didn't fit in your bullets and even compare your products. Get creative and use A+ content to help set you apart from competitors.

Reviews

: While reviews are extremely important, they can take time to accumulate. Joining Amazon Vine or the Early Reviewer Program are normally great options, but with the selling season right around the corner, the best thing you can do right now is to respond to any negative reviews you might have. This way, if a potential consumer is reading a negative review, they know that you are diligent about customer service and sought to address the issue.
Content Strategy
With Prime Day so close to the holiday season, it's a good idea to evaluate whether it's most beneficial to push your product in October or closer to the Turkey 5.
There's no right or wrong answer, but ask yourself this: Would someone gift my product to a family member or friend? If the answer is yes, you might want to consider switching to holiday-centric content with your Brand Store, copy and creative initiatives starting in mid October.
There are exceptions to every rule, but we've outlined a guide to get to help you get thinking: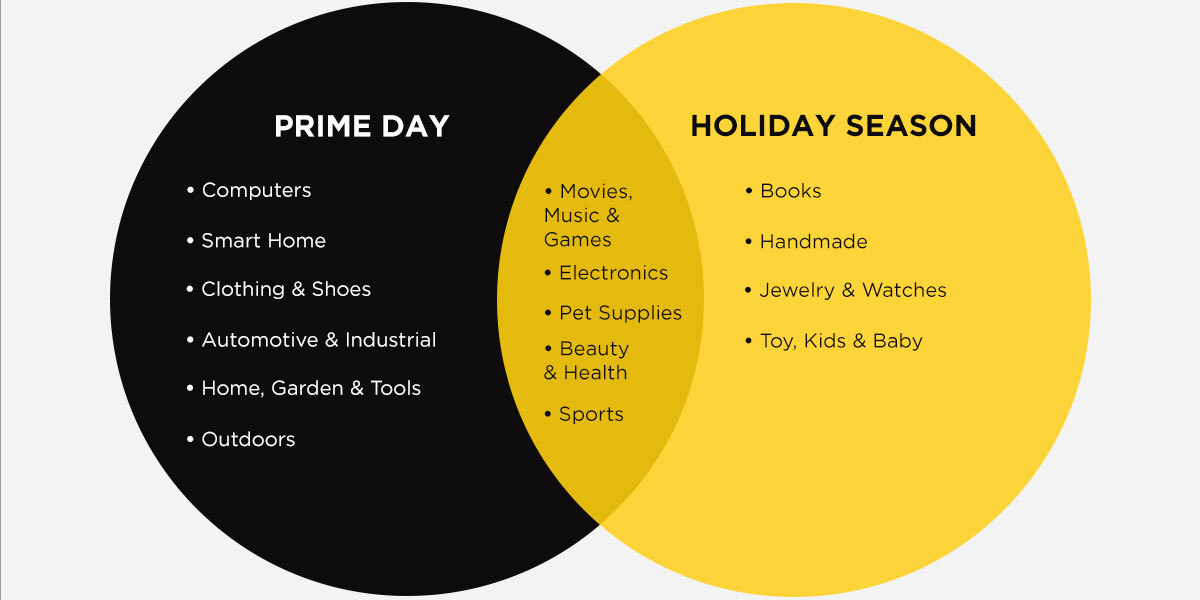 If you're looking for help this holiday season, it's not too late to reach out for help. Let's get connected: