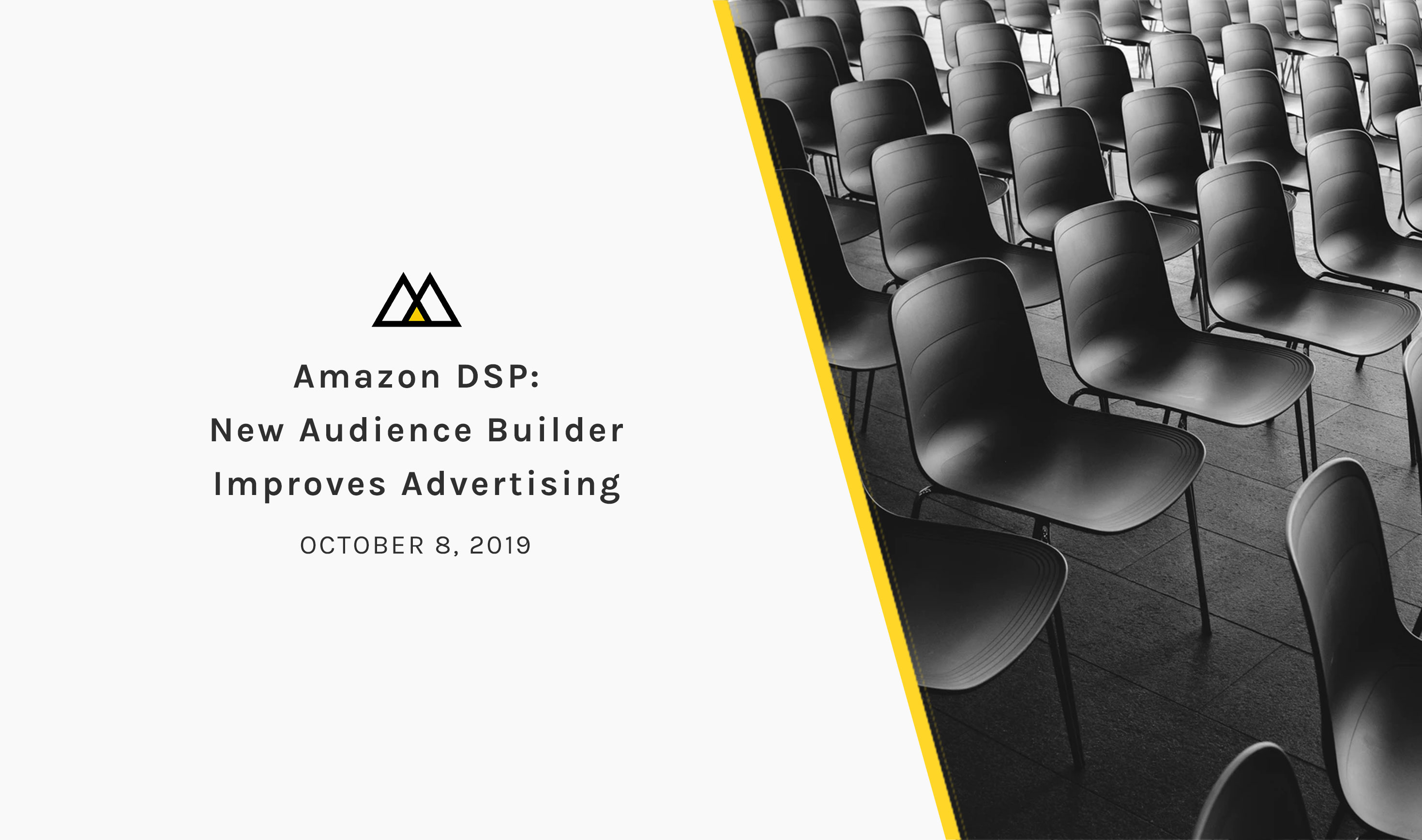 Amazon DSP: New Audience Builder Improves Advertising
Amazon's Demand-Side Platform (DSP) is a unique advertising platform that helps brands influence shoppers along their purchasing journey. The DSP serves ads at the right moment through very specific interest-based audience segments, bridging the gap between brand discovery and purchase.
Read More: Amazon 101: Understanding the Amazon DSP
Amazon has rolled out a number of new updates to the DSP, the most impactful being the Audience Builder. This new tool allows advertisers to create audiences based on relevant shopping interactions on Amazon on a self-serve basis.
Until now, advertisers were not able to create custom audiences, but this new tool opens up a world of advertising possibilities. We explain the three main ways this update can impact advertising:
Remarketing Strategy

: One advertising strategy you can employ with the New Audience Builder is the ability to segment ASIN audiences in a nimble, strategic way by driving shoppers back to a page they visited. This can help encourage repeat sales or cross sales with like products in your catalog and optimize campaigns over time.

Competitor Conquest

: The New Audience Builder allows advertisers the ability to target competitor ASINs. You can launch a conquest strategy by capturing people who are interested in a competitor product and either viewed a competitor ASIN or purchased a competitor ASIN to shift the focus to your product instead.

Customer Acquisition

: If you're looking to grow your customer base, the DSP can help. You have the ability to create a custom audience of shoppers who have searched for or viewed an ASIN in a list of designated search terms that relate to your product.
It's important to note that the New Audience Builder can only be used on Amazon and cannot be used to drive shoppers off of Amazon.
Additional DSP Updates:
Overlap Report

: Overlap reports help determine audiences to include in Amazon Advertising campaigns, extend reach with new overlapping audiences, and/or refine creatives and messaging to better resonate with those likely to be interested in an advertiser's brand.

Audience Insights Consideration Period

: This insight helps brands understand how long it takes their customers to make a purchase decision after looking at a given product. This informs lookback windows, remarketing strategies, and timing of promotions to help drive purchases when customers are considering a product.

3rd Party Pre-Bid Supply Quality

: Amazon now has more integrations with third-party viewability, brand safety and invalid traffic solutions including DoubleVerify, Moat and Integral Ad Science (IAS).
You can read up on all of the DSP's additional updates here.
The DSP offers rich customer data and allows advertisers to target on a very granular level. This new tool is extremely useful to remarket, target competitor ASINs and acquire new customers.
Need an Amazon expert to help with your advertising? We have a whole team ready to help: