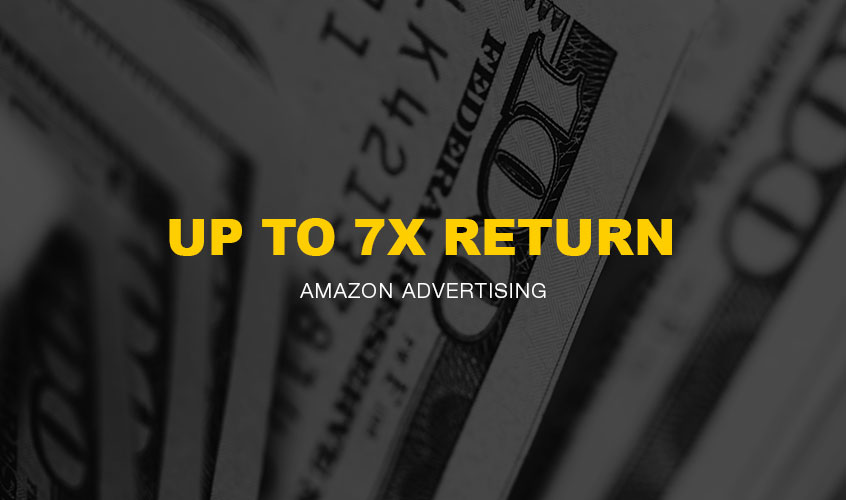 New Study: See Up to 7x Return with Amazon Advertising
Feedvisor has recently released their 2020 study, Brands and Amazon in the Age of E‑Commerce, focusing on Amazon 1P and 3P sellers  and their advertising. This survey was based on 1,000+ U.S. brands and produced some staggering results:

Who is benefitting from Amazon Advertising
Amazon Advertising is beneficial to nearly every brand that uses the platform. Amazon has a variety of advertising types depending on your goals and can fit varying and fluctuating budgets.
According to Feedvisor's study, 59% of brands selling on Amazon say that Amazon generates the highest return on media spend, over Google and paid social. While it's important to maintain a variety of advertising avenues, Amazon continually proves lucrative because of its large and ever-growing customer database.
Read more: Why Lowering Your ACoS Isn't the Answer
Obstacles with Amazon Advertising
Without Advertising experience, there are some barriers to navigating Amazon Advertising. Amazon does offer a variety of learning tools in Seller Central and Vendor Central, as well as courses you can take. 
However, it's important to understand that advertising is more than just having the right budget behind a campaign–it's also a blend of long-term and short-term advertising strategies, knowing how the two impact one another and developing optimized content for your campaigns to advertise. If you feel like you need help, Macarta is here.
Read More: Macarta: Agency Partners for Amazon Success
What the Future Holds
One of the most impressive Advertising offerings Amazon has is the DSP. Amazon's Demand-side Platform (DSP) is a unique platform that helps brands influence shoppers. It allows for on-Amazon and off-Amazon advertising, has specialized audience builders, the ability to advertise with video, impressive metrics and more.
According to Feedvisor's study, there are over 100 million Amazon Prime members. As Amazon's customer base continues to grow, the quality DSP data will only get better. Better data gives you the ability to target the right audience at the right time, so your advertising budget can go further.
Read More: Case Study: Finding the Best DSP Strategy
Ready to get advertising on Amazon? Macarta is here to help: