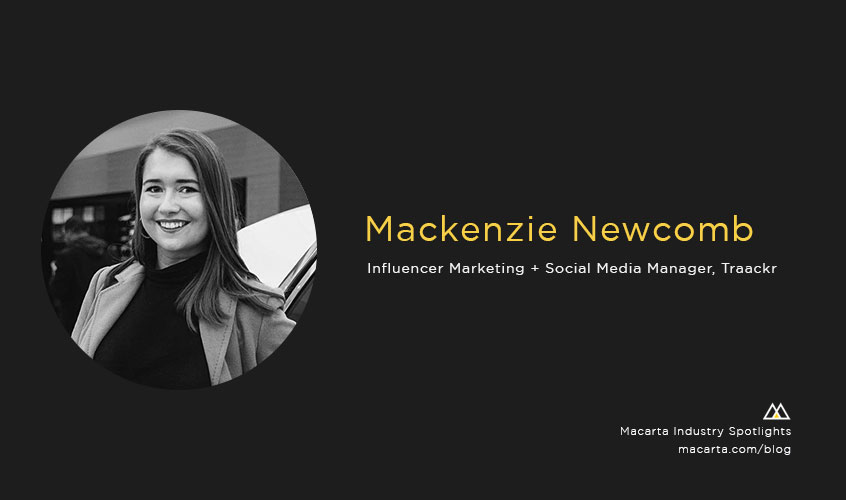 Industry Spotlight Series: Influencer Marketing with Mackenzie Newcomb
We continue Macarta's Industry Spotlight Series to discuss the world of influencers and influencer marketing. The Industry Spotlight Series aims to highlight experts within the advertising, marketing and creative industry to deliver you more information that can help improve your Amazon business and expand your knowledge about the e-commerce ecosystem as a whole.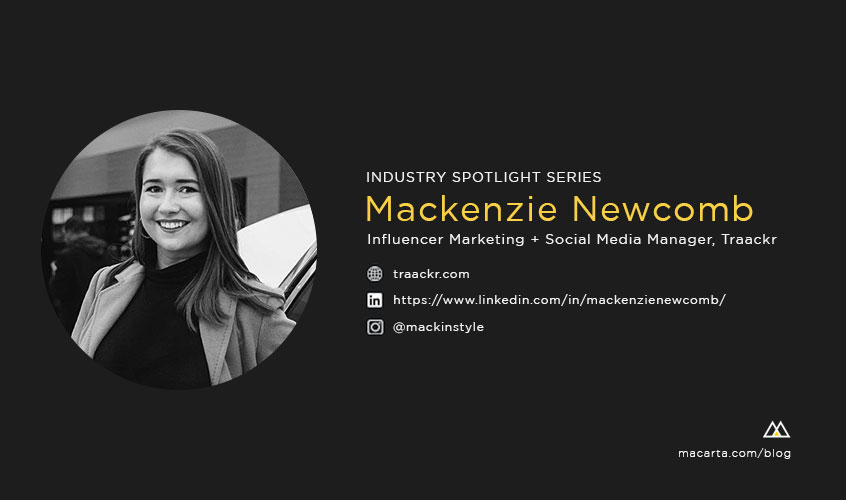 Today we interview Mackenzie Newcomb, Influencer Marketing + Social Media Manager at Traackr in New York City. Mackenzie is truly an expert in the influencer space, starting out as a blogger and now helping companies such as Amika, Travelocity, Chipotle and more find influencers to work with their brand. Mackenzie demonstrates the power of influencers and discusses how you can integrate influencer marketing into your existing strategy. We also demonstrate a case study where one of our brand partners saw a 47.7% increase in sales after featuring an influencer on their Amazon Brand Store:
Q: There is obviously value in influencer marketing. How do you help educate those who are still apprehensive about the concept?
A: The celebrity endorsement has existed forever; Influencer Marketing is a newer manifestation of an old concept. It's also more affordable than other forms of advertising like TV and print. A few years ago it was pretty difficult to convince brands they needed to partner with influencers, but now the value is pretty obvious! Influencer Marketing isn't just the future–it's the present.
Q: What's the most exciting part about your role and working in influencer marketing?
A: I'm in charge of Influencer Marketing for an Influencer Marketing company. My job is to find people to advocate for our company that are experts in the influencer space. It's exciting because I'm constantly creating content I find very intriguing, and I've learned a lot about what makes an influencer valuable to a company. 
Q: You've also had your own blog, Mack in Style, for many years and have started the Bad Bitch Book Club, which has been recognized by Bustle. As an influencer, how have you felt the industry shift over the last few years?
A: In the beginning, the easiest way to rise to fame as an influencer was to post bikini photos. Now people are really looking for authenticity. They are more selective about who they are willing to follow and expect more from those influencers. Now it's about who can fit a certain niche that people are interested in, as opposed to who can live a life people will be most jealous of.
Q: As someone who works in influencer marketing and as someone who likes fashion, what's your take on Amazon's influencer-curated and created fashion line, The Drop?
A: I think it's well branded, and clearly inspired by "hype" streetwear. You can tell that it's marketed towards young people who follow product drops and are heavily influenced by influencers. Personally I think my style is a little preppier, but I dig the concept and I'm excited to see how it evolves. 
Q: How can brands leverage influencers outside of just social media?
A: I think brands really underestimate the value in sponsored blog posts. They show up in Google results and the content lives there forever. Also, product collaborations (like what Amazon is doing!).
Macarta Influencer Case Study
One of our brand partners in the skincare category saw a significant positive impact on their sales after they began featuring celebrity brand ambassadors on their Amazon Brand Store. Influencers can be integrated into your existing marketing strategy to help create that very level of authenticity and connectedness that Mackenzie addressed. Customers resonate with the right influencer because they are relatable and help followers and shoppers envision themselves with the product.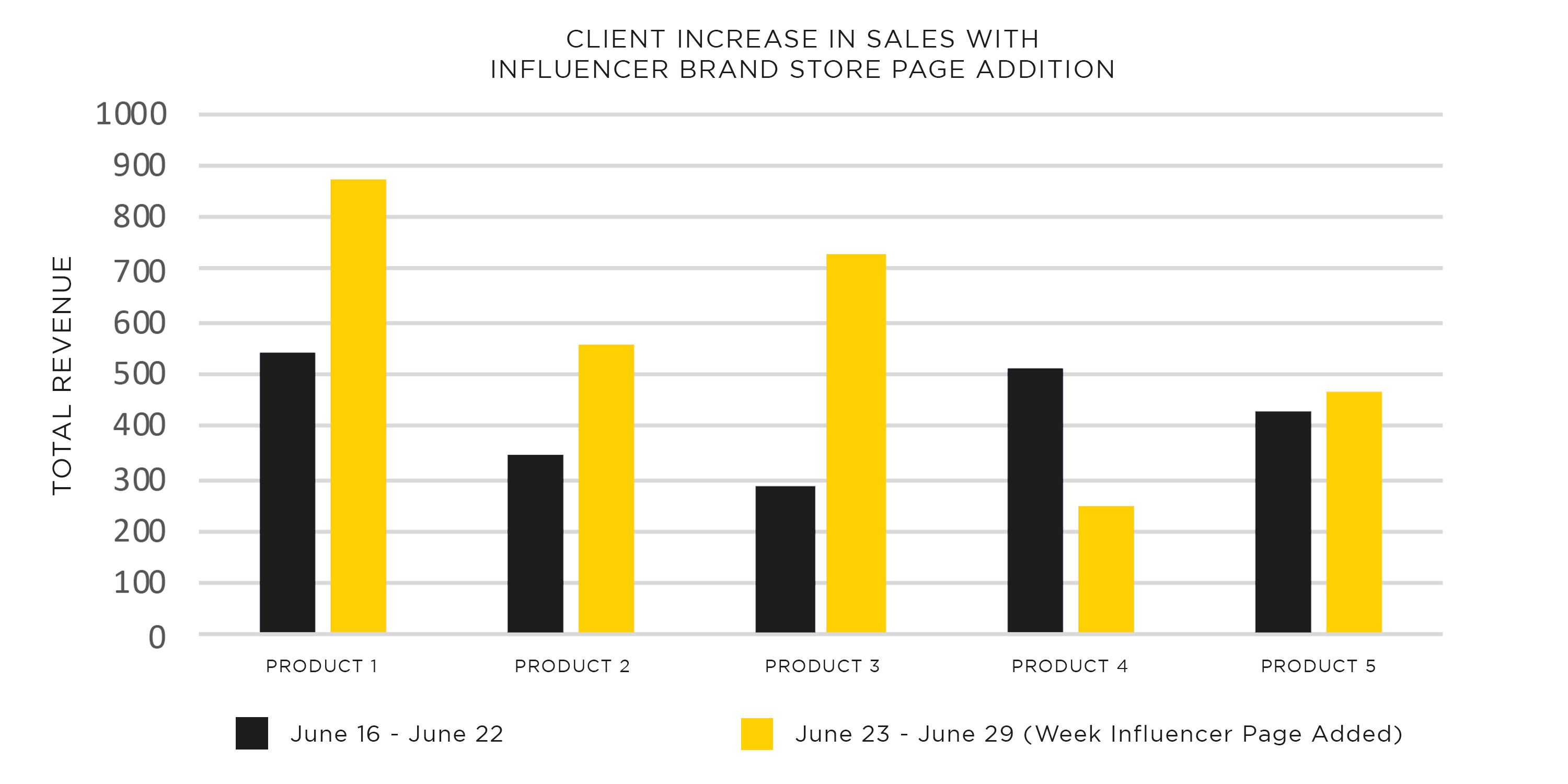 As you can see, there is a direct correlation between our brand partner leveraging the power brand ambassadors their influencers on Amazon and their sales. 
Final Thoughts
Mackenzie pointed out, "Influencer Marketing isn't just the future– it's the present," and we believe this to be true as well. Influencers can be leveraged across all of your platforms, from social media to direct e-commerce sales, to help connect with followers and potential customers. Even on Amazon, influencers have the power to connect with your audience, helping to build brand trust and loyalty.
Mackenzie Newcomb, Influencer Marketing + Social Media Manager, Traackr