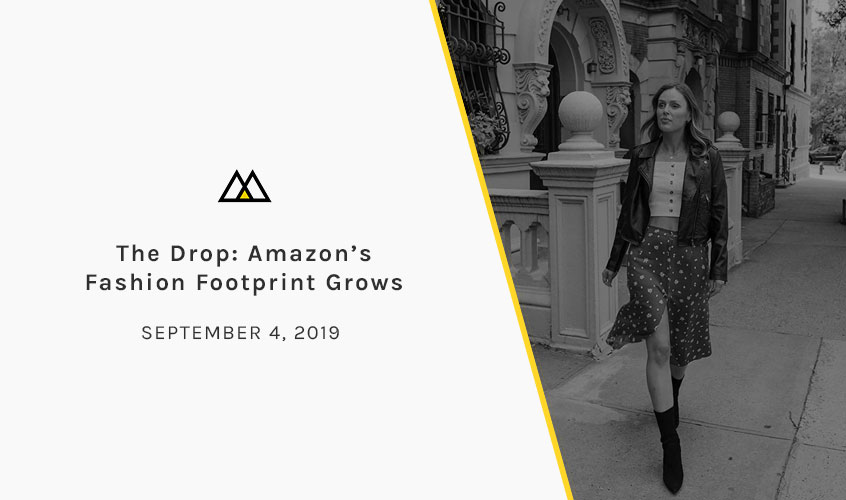 The Drop: Amazon's Fashion Footprint Grows
Amazon launched their limited-edition private label line The Drop in early 2019. The fashion brand has experienced huge success by collaborating with notable Instagram influencers who have a loyal, engaged following. While collections are available to shop for 30 hours, some have sold out in just minutes.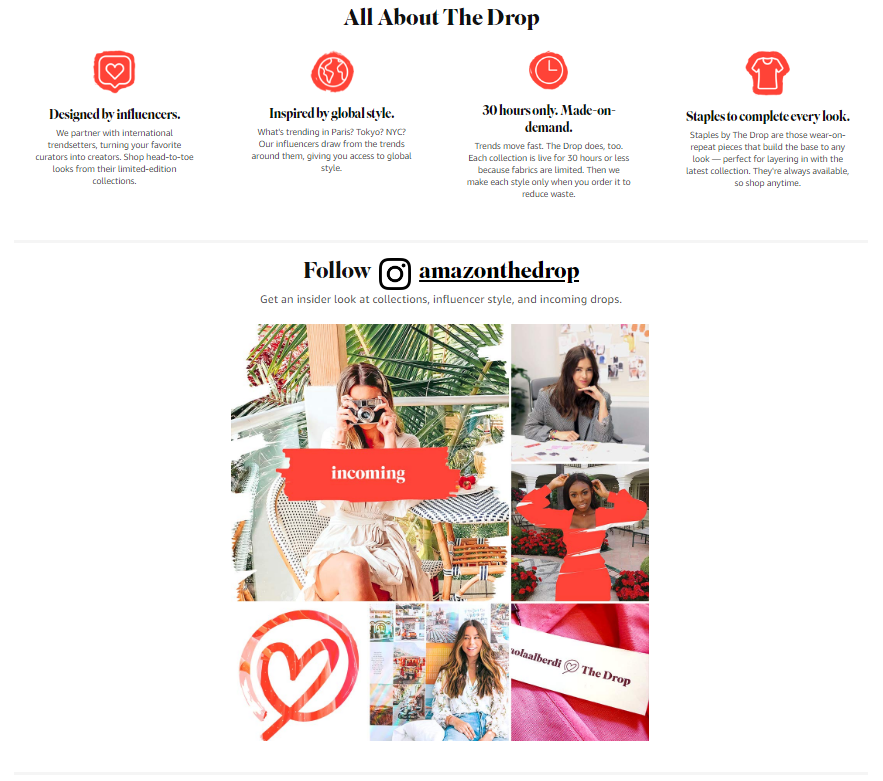 A New Fashion Age
The Drop is a series of influencer-designed collections that highlight current fashion trends and deliver "of-the-moment" pieces. Every few weeks, Amazon releases a new collection designed by a feature influencer.
Amazon has discovered the perfect strategy for launching clothing lines. When a collection "drops," shoppers have just 30 hours to preorder pieces. Many items and even entire collections have sold out in minutes. This sense of urgency increases engagement and sales while Amazon is able to limit leftover inventory at the end of the launch.
The Social Media Experience
Amazon is utilizing influencers in a way that few companies have done successfully. In an effort to increase their impact on the fashion industry, Amazon has partnered up with some of the most influential members of the fashion industry — and the result has been significant.
Amazon has had 6 collections so far and their next is set to launch Thursday, September 5 with Instagram Influencer Milena Karl. There are a number of reasons the launches have been so successful.
"The combination of the cute clothes and extremely limited release makes the hype exciting and makes you feel like you got something very exclusive," says Lifestyle Influencer Bailey Smith (who frequently posts Amazon finds herself). "The fact that Amazon works with influencers is even more interactive since they do try on sessions, multiple posts and answer questions on their social media's before the release even goes live," she adds, calling out the real-time shopping experience Amazon has been able to incorporate in an e-commerce platform.
Amazon's Fashionable Timeline
When Amazon started selling apparel in 2002, Jeff Bezos revealed that the e-commerce giant sold 106,000 pairs of pants. In comparison, just one of our apparel partners sold roughly 1.4 million bottoms year to date.
Over the years, Amazon has diversified their apparel strategy, acquiring apparel companies, launching private label brands and starting their own subscription service, modeled after many other popular boxes. Their multi-prong approach has solidified their relevance and authority in the apparel space, perfectly priming the launch of The Drop:
1995: Amazon Launch

2002: Amazon begins selling apparel

2006: Amazon acquires Shopbop

2009: Amazon acquires Zappos

2018: Prime Wardrobe launches

2019: Amazon launches The Drop
Amazon has built a strong foundation for success in the apparel category. More importantly, Amazon has shown its willingness to listen to what their Gen Z customers want – an engaging and culturally relevant experience on the platform. With The Drop's continued success, it's likely that the influencer collaborations will continue to grow in size, scope and even category.