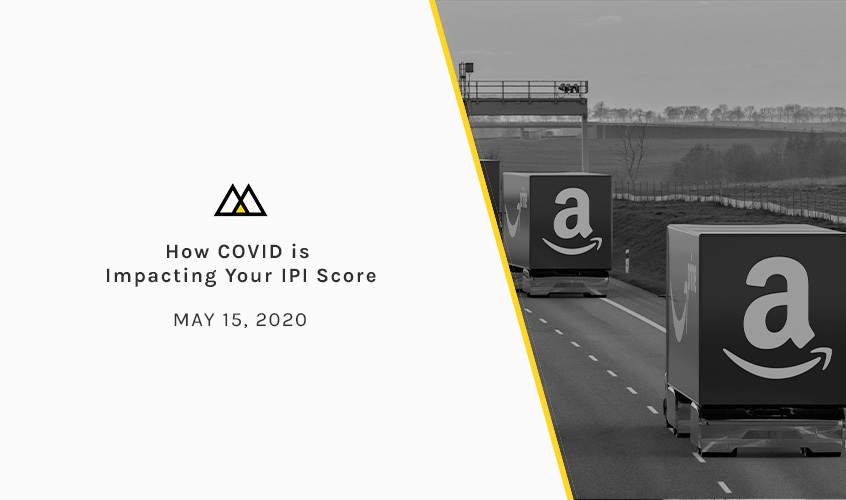 How COVID is Impacting your IPI Score
What is an IPI?
There are many ways to measure your Amazon performance over time and a variety of metrics you can focus on, depending on your goals. For Amazon Pro sellers, one of these metrics is your Inventory Performance Index (IPI).
Amazon states that your IPI "is based on how well you drive sales by stocking popular products and efficiently managing on-hand inventory." Amazon scores you based on a number of criteria and gives you a rating between 0 – 1,000.

 How is an IPI scored?
To have an IPI rating you need to have recent account activity and your account needs to be active for at least 13 weeks in order to have enough data. Scores above 550 indicate that your account is doing well. Scores below 400 need to immediately take steps to improve your score.
An IPI score above 550 indicates that your business is excelling. If your IPI score is below 400, we recommend you take immediate action to improve the score.
There are 4 Main ways to improve your IPI:
Reduce

excess inventory

Increase

sell-through

Ensure

inventory is shoppable by fixing stranded listings

Boost

sales by keeping popular items

in stock
The IPI page in Seller Central provides metrics for each category that can help guide you in the right direction so you know how to improve your score.
How to Improve Your IPI:
Do not carry too much inventory. This is one of the biggest factors Amazon uses to give your IPI. Not only does it decrease profitability, it can make it hard to plan for the future because you won't have an accurate understanding of how your product sells. However, there's a fine balance to maintain and you should ensure that popular items stay in stock at all times.

Increase advertising spend to help increase your sales. Also consider taking advantage of some of Amazon's free offerings such as Amazon Live and Amazon Posts to increase brand and product awareness.

Organize your catalog and make sure that all products are variated correctly and you don't have any orphaned ASINs.

Optimize your listings, updating copy, refreshing your keywords and updated imagery.
Your IPI and COVID-19 
Starting on January 20, 2020 IPI score calculations started taking both recent and long-term inventory performance into consideration when calculating scores. Amazon states, "Your IPI is based on the time duration that results in a higher score." Or to put it simply: your IPI now gives you the benefit of the doubt. This is great news in the midst of COVID-19 when sales are anything but regular. The new scoring system accounts for irregularities in the market such as the one we are currently experiencing.
Why the IPI Matters
Your IPI can influence how much space you are allotted in a warehouse. While this score is not the ultimate factor, it certainly is an important one and should be taken seriously. Overall, IPI factors are simply general best practices for your business, so consider the metrics and insights Amazon provides to help solve existing problems.
Looking for more help with your Amazon business? We have a team of experts ready to help: