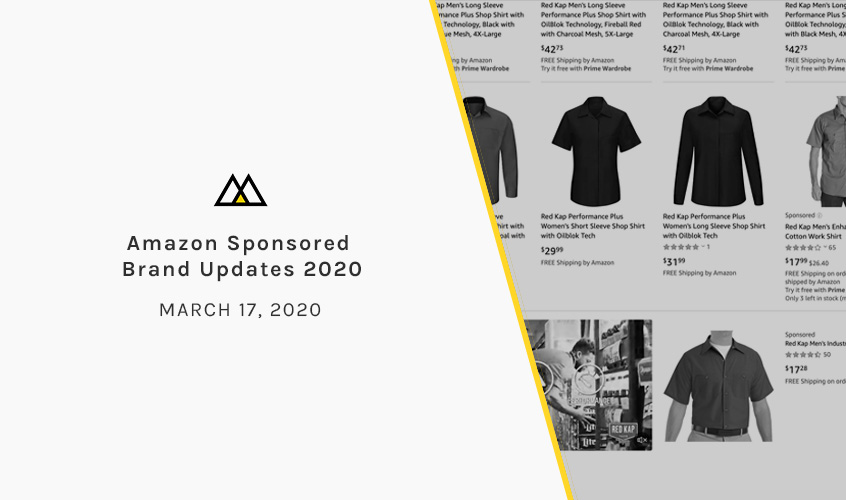 Amazon Sponsored Brand Updates 2020
Amazon has recently rolled out some new and improved updates to their advertising offerings. These updates include improved reporting and video.

In November 2019 Amazon rolled out search term reports for Sponsored Brand ads. The broad match Sponsored Brand Ads include word variations such as plurals, synonyms and other related keywords. Prior to this, Amazon did not have reporting for this ad type, making it difficult to know what terms were being converted on.
The Sponsored Brand reports have revealed that Amazon is very broad with the broad match synonyms and can appear very loosely related. You can use the broad match modifier to help refine the keywords being used. To create a broad match modifier, simply add a (+) sign in front of each keyword you want included in the search terms you're bidding on.
Despite the wide net that broad match keywords cast, this can still be a helpful feature if your goal is impressions, especially if you're new to advertising or a large brand on the platform.
While this reporting is an improvement, Sponsored Products reporting still provides more in-depth data, including ASIN data.

Sponsored Brand video ads are perhaps the most exciting update that Amazon has rolled out. Available on desktop and mobile, these videos allow brands to use their great video assets, that most likely already exist.
POSITIVE: These videos are short, to-the-point and attention-grabbing. Video speaks to millennials in a way that they are already used to shopping through social media.
DOWNSIDE: You can only promote one product at a time. However, if you are in the apparel category and your products are variated correctly, featuring one product can actually feature a multitude of colors and sizes once a shopper clicks through and is taken to the PDP.
At Macarta we have a team of advertising specialists that are ready to help you with your Amazon Advertising and DSP efforts. Want to learn how you can take your business to the next level? Drop us a line: