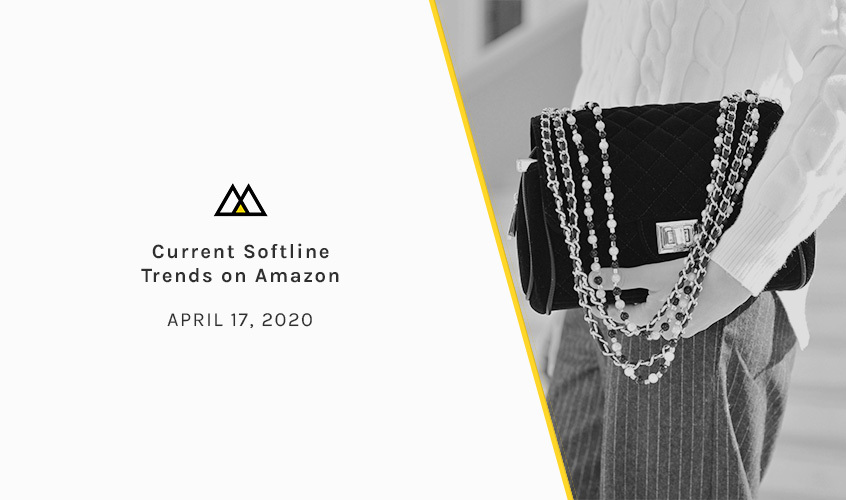 Current Softline Trends on Amazon
While 2020 revenue and advertising projections may look a little different from the beginning of the year, one constant remains: online shopping. As one Vox article points out, "We're craving a few symbols of normalcy in the midst of a terrifying situation," which is why so many turn to online shopping. Here are the latest trends Macarta has tracked over the last few weeks.
How Amazon Continues to Dominate
Over the years the platform has become a dominant player in the fashion space and is no longer just a place for people to stock up on home goods and groceries. Their popular private fashion label, The Drop, has amassed a loyal following of fashionistas, releasing limited edition collections with popular fashion influencers, bloggers and YouTubers. 
Currently, Amazon private labels only generate 1% of total revenue, but when Amazon's annual revenue is $87.4 billion, that means that their private label products generate $874 million dollars in annual revenue. Generous estimates predict that Amazon could reach $25 billion in private label revenue as early as 2022.
How Consumers Are Shopping
With most of the country at home, social media usage has skyrocketed. If you get a weekly update from your iPhone on your screen time usage, you're already aware. Facebook is experiencing record usage and YouTube usage is up 15%. This is great news for influencers and social media marketers–Poshmark's 2020 Social Commerce Report found that 41% of consumers discover new brands through influencers and 33% find new brands through social media marketing.
Luckily, this high-traffic time online can work for everyone. If you are a brand facing advertising budget cuts, turn to social media and email marketing to reach out to your customers. If you still have an advertising budget to work with, now is a great time to go after markets that are normally too saturated for you to compete in, allowing you the opportunity to reach new consumers.
Related: 2020 Planning: Taking on Q2 Amidst COVID-19
Amazon Softlines Trends
We have been actively tracking search trends on Amazon over the last few weeks and have been able to track consumer behavior and search queries as the country stays at home.
Week of April 6, 2020: Top Searched Terms in Amazon's Softlines Category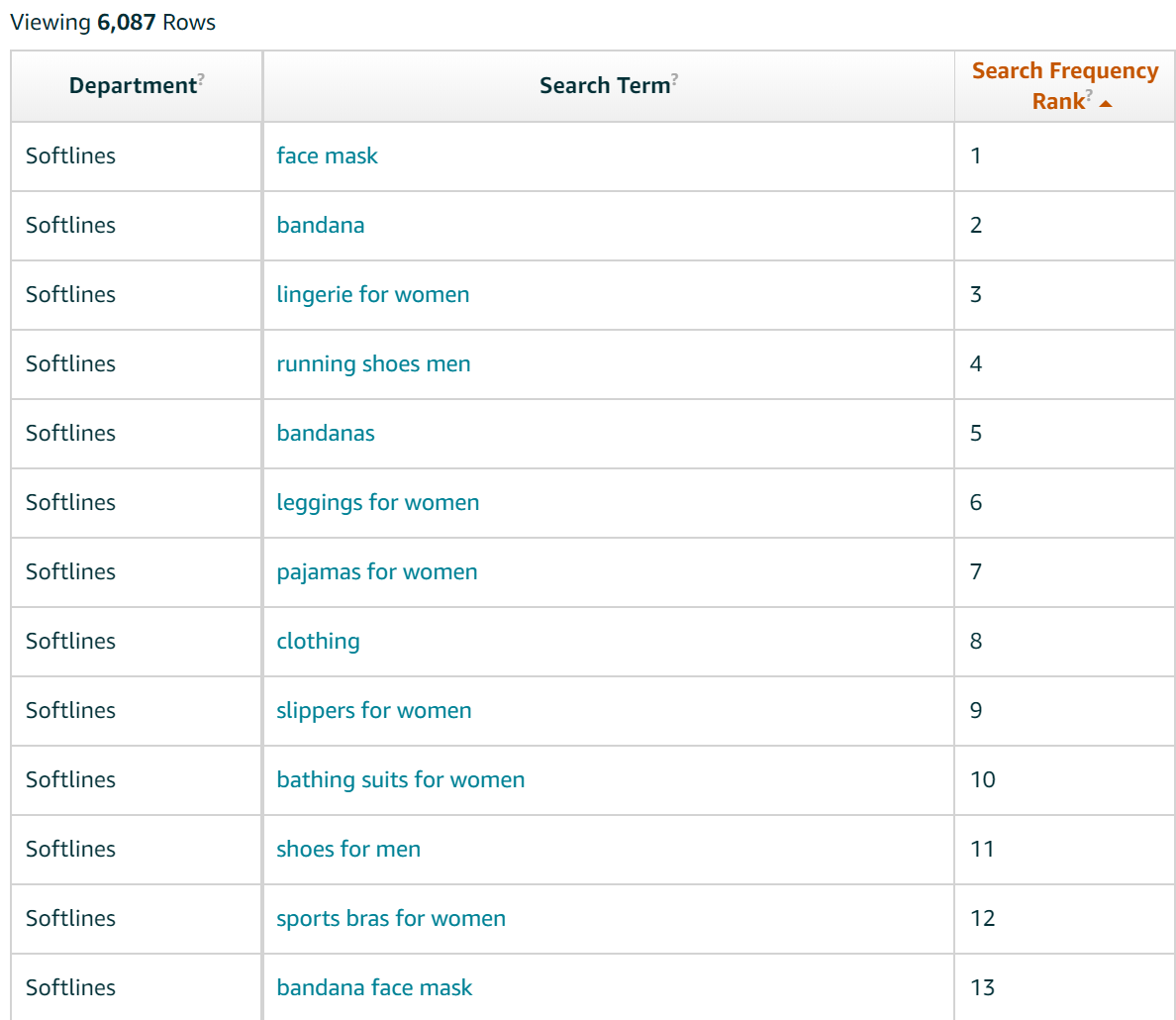 Aside from the obvious searches for face masks and bandanas, other popular terms indicate how people are spending their time: taking up running, finding ways to stay comfortable while working from home and even remaining optimistic about future travel, with "bathing suits for women" ranking at #10.
Related: Amazon Softlines Category: What You Need to Know
Softlines Quick Tips
Support your products by advertising at the color level to show the breadth of your catalog.

Take this time to update your PDP pages so your advertising is directing consumers to optimized content.

Connect with customers on social media, encouraging followers to show their stay-at-home fashion with a designated hashtag.
Want to discuss your Amazon business? We have a team of experts ready to help you: