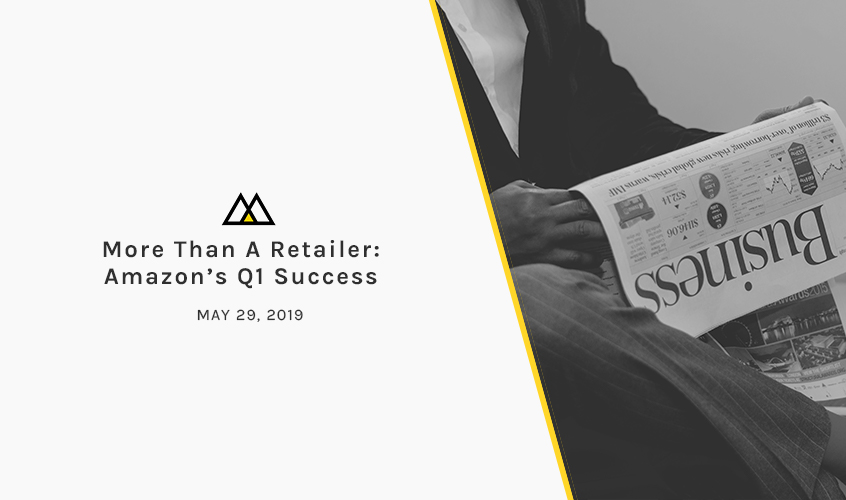 More Than Retail: A Look At Amazon's Q1
Q1 of 2019 produced surprising results for Amazon. For the first time since the company was founded, retail sales accounted for less than half of the company's revenue. This is not to say that the company under performed. Amazon stock is up 28% this year, beating out many other big tech stocks.
Continually proving themselves as a competitive online retailer, Amazon's additional offerings have outpaced retail sales. Other revenue contributions include AWS cloud hosting, Prime memberships, third-party marketplace sellers, and advertising. North American sales were up 17% and international sales were up 9% from 2018 Q1, which is great news for investors.
This news isn't entirely surprising as Amazon Ad Revenue Projections continue to surpass expectations. Amazon's growing advertising offerings have increased significantly with its rich data network and advertising capabilities on and off of Amazon. 2019 ad revenue projections were underestimated by 750 million and 2020 by over a billion dollars.
In addition to revealing business data, the company also made a number of announcements in Q1.
Tech Highlights:
Fire TV now has more than 30 million active users.

Amazon now offers Apple Music via Alexa on Fire TV, Echo, and Sonos devices in the U.S. and U.K.

Apple TV app is coming to Fire TV devices.

Amazon announced plans to bring Alexa to Brazil later this year.

Amazon introduced the all-new Kindle for $89.99.

Amazon and Google announced that the two will launch the official YouTube app on Amazon Fire TV devices and Fire TV Edition smart TVs, as well as the Prime Video app for streaming to Chromecast and Chromecast built-in devices.
Lifestyle and Shopping Highlights:
Amazon and Whole Foods Market announced a third round of price cuts.

Customers in the U.S. can now use their Flexible Spending Account and Health Savings Account debit cards towards eligible purchases on Amazon.

Amazon now accepts New York-issued Supplemental Nutrition Assistance Program (SNAP) EBT cards.
Amazon Initiatives:
Amazon announced three new renewable energy projects to power AWS global infrastructure.

Amazon announced Shipment Zero, the company's vision to make all customer shipments net zero carbon, with the goal of making 50% of all shipments net zero by 2030

Amazon announced a collaboration with the National Science Foundation to commit up to $10 million in research grants per year over the next three years focused on fairness in Artificial Intelligence (AI).
Be sure to follow us on LinkedIn to stay up-to-date on the latest Amazon news and tips.