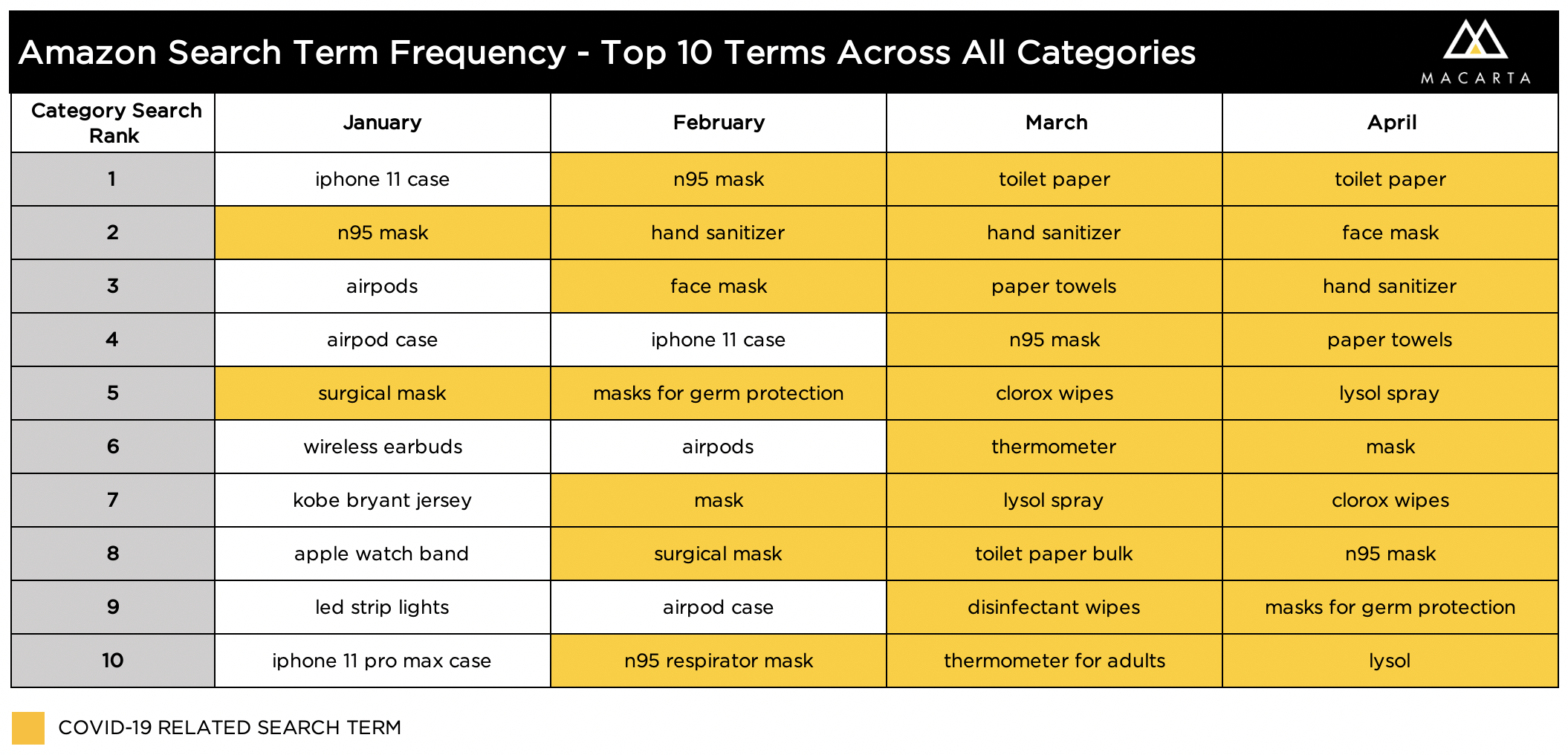 COVID-19 REPORT: Amazon Consumer Shopping Behavior
At the start of 2020, it would have been hard to predict that one of this year's hottest commodities would be…toilet paper. Over the last few months, shopping trends on Amazon have changed drastically.
At Macarta we track the latest search trends on Amazon to stay informed, track patterns over time and make sure that our brand partners are capitalizing on new advertising opportunities. What started as a routine practice has quickly become a fascinating microcosm of consumer behavior during COVID-19.
Amazon Search Term Frequency – Top 10 Terms Across All Categories: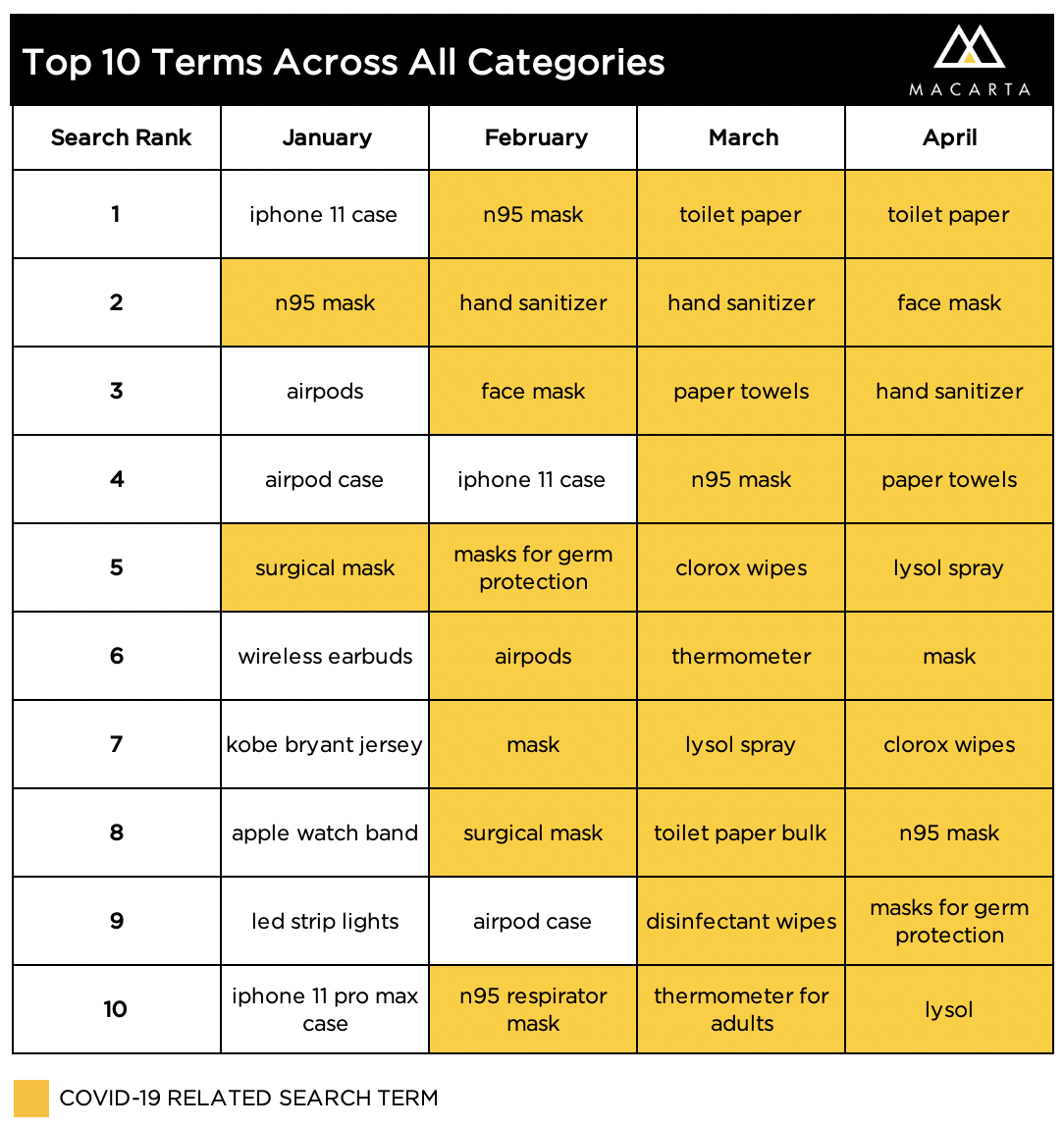 Below are breakdowns of search terms by category, which give greater insight into how consumers were responding to quarantine: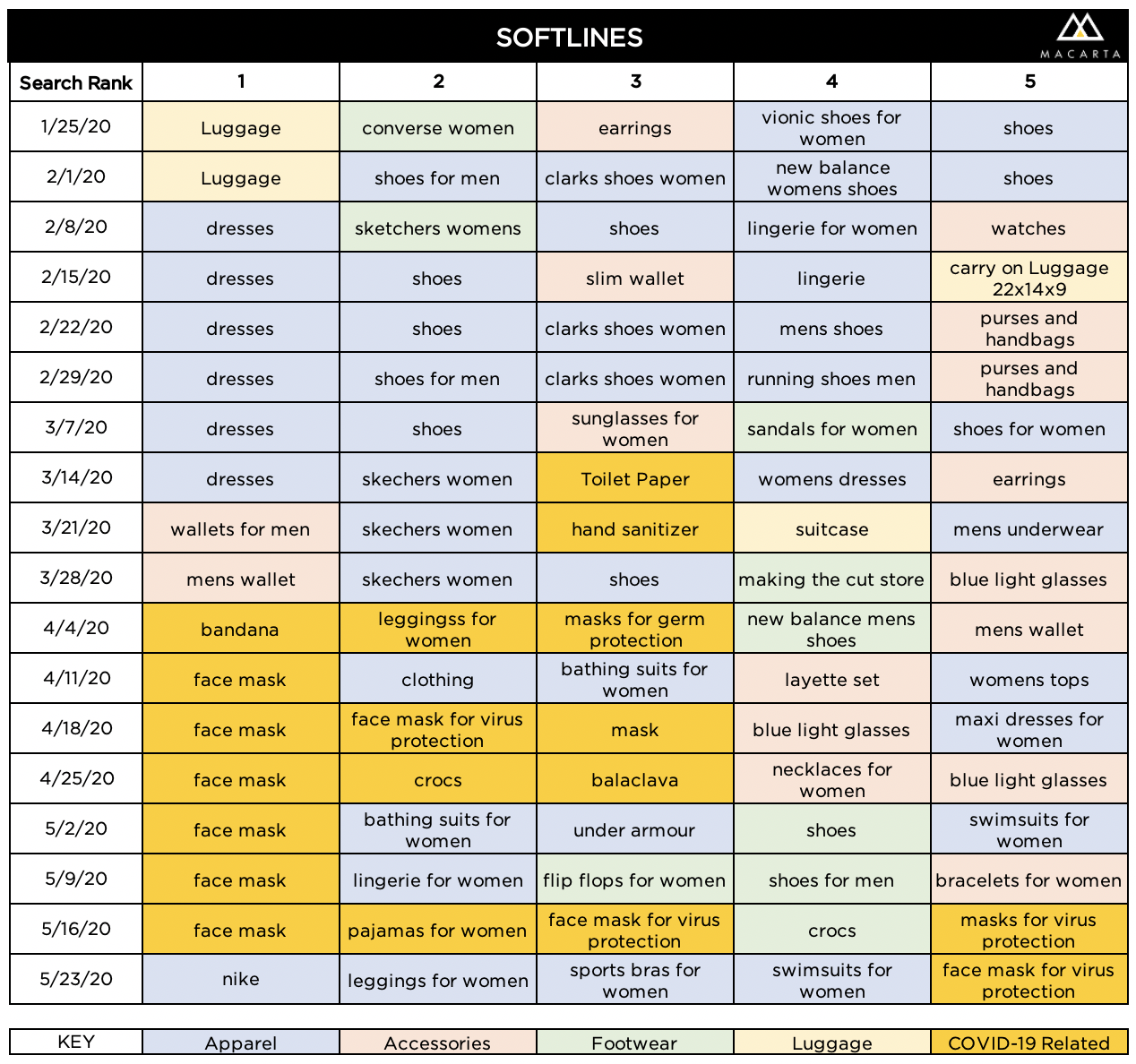 KEY TAKEAWAYS
Some type of face mask was the #1 search term for 7 weeks.

"Blue light glasses" started appearing as a frequently searched term, most likely as a result of increased screen time.

Consumers remained optimistic about summertime with "bathing suits for women" as the weather heated up.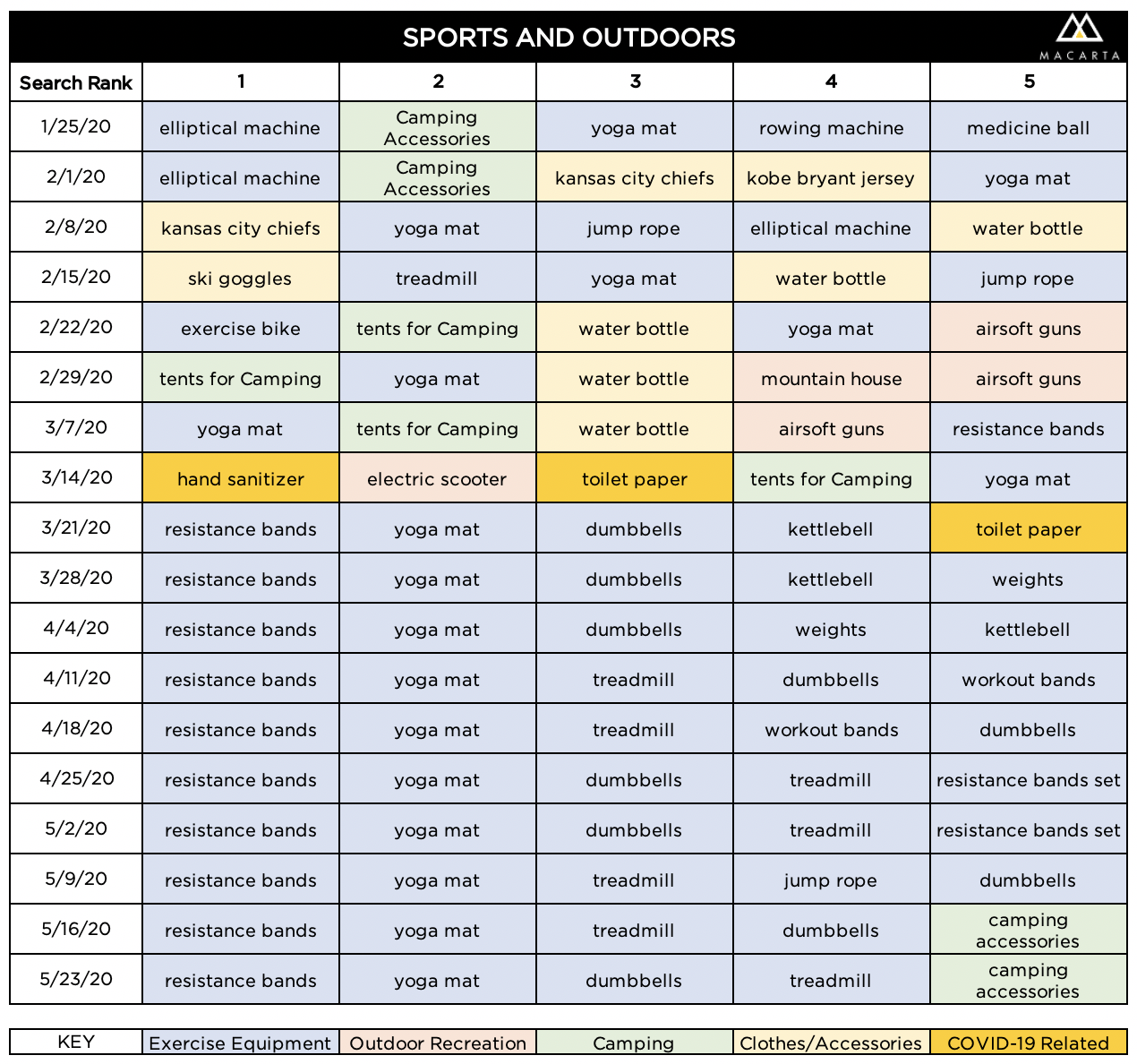 KEY TAKEAWAYS
"Resistance bands" and "yoga mat" held the #1 and 2 spots for 11 weeks in a row.

"Camping accessories" became a relevant search term again as states started to reopen and the weather got warmer.

Based on everyone's search terms, most Amazon customers now have a home gym.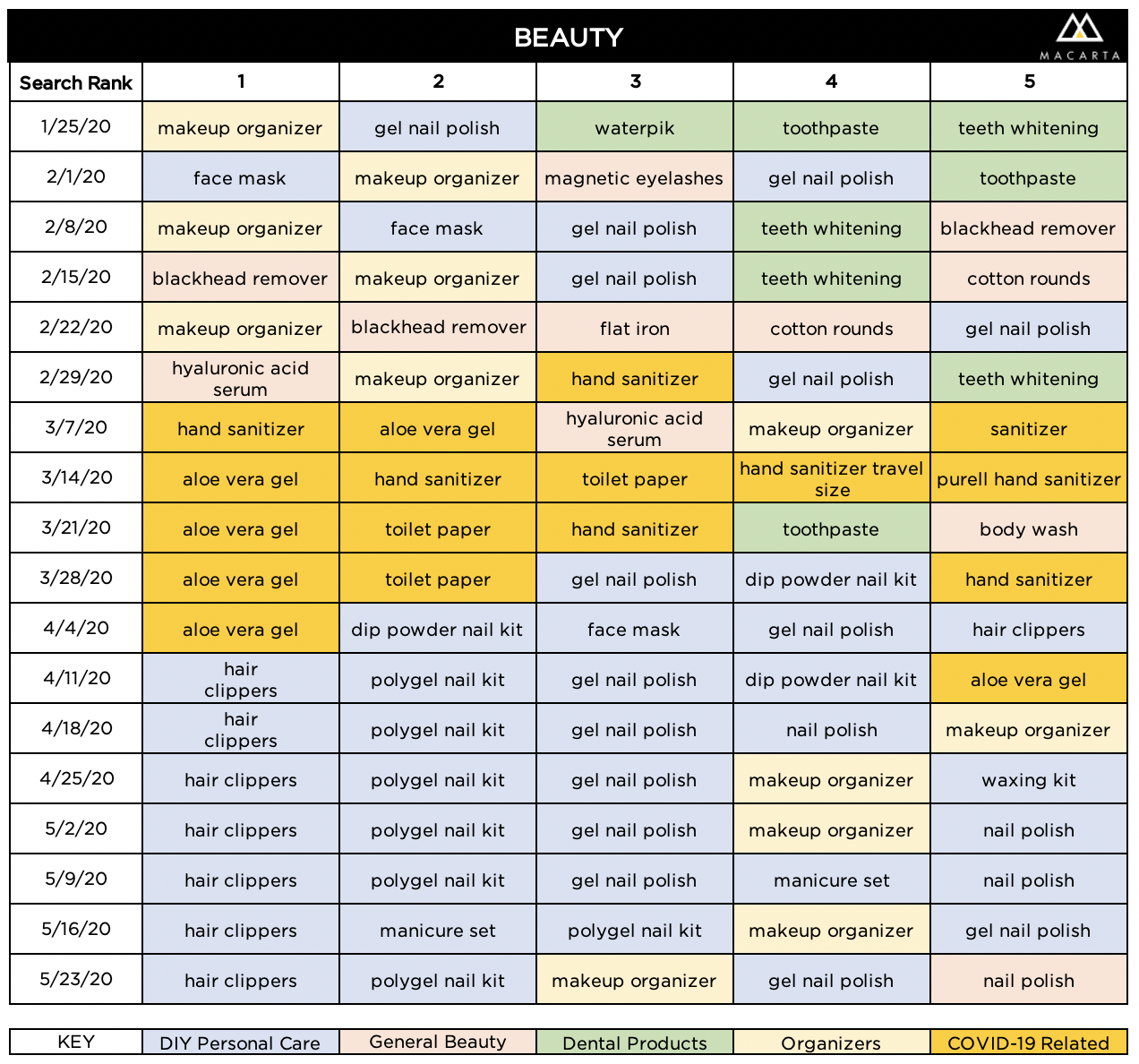 KEY TAKEAWAYS
"Makeup organizer" was a highly searched term at the beginning of the year as organizing new year's resolutions were still on most people's to-do lists.

When hand sanitizer was in short supply "aloe vera" became a top-trending term as people made DIY hand disinfectant.

Toward the end of quarantine, "hair clippers" became the #1 search term for 7 weeks in a row. Great Clips at home.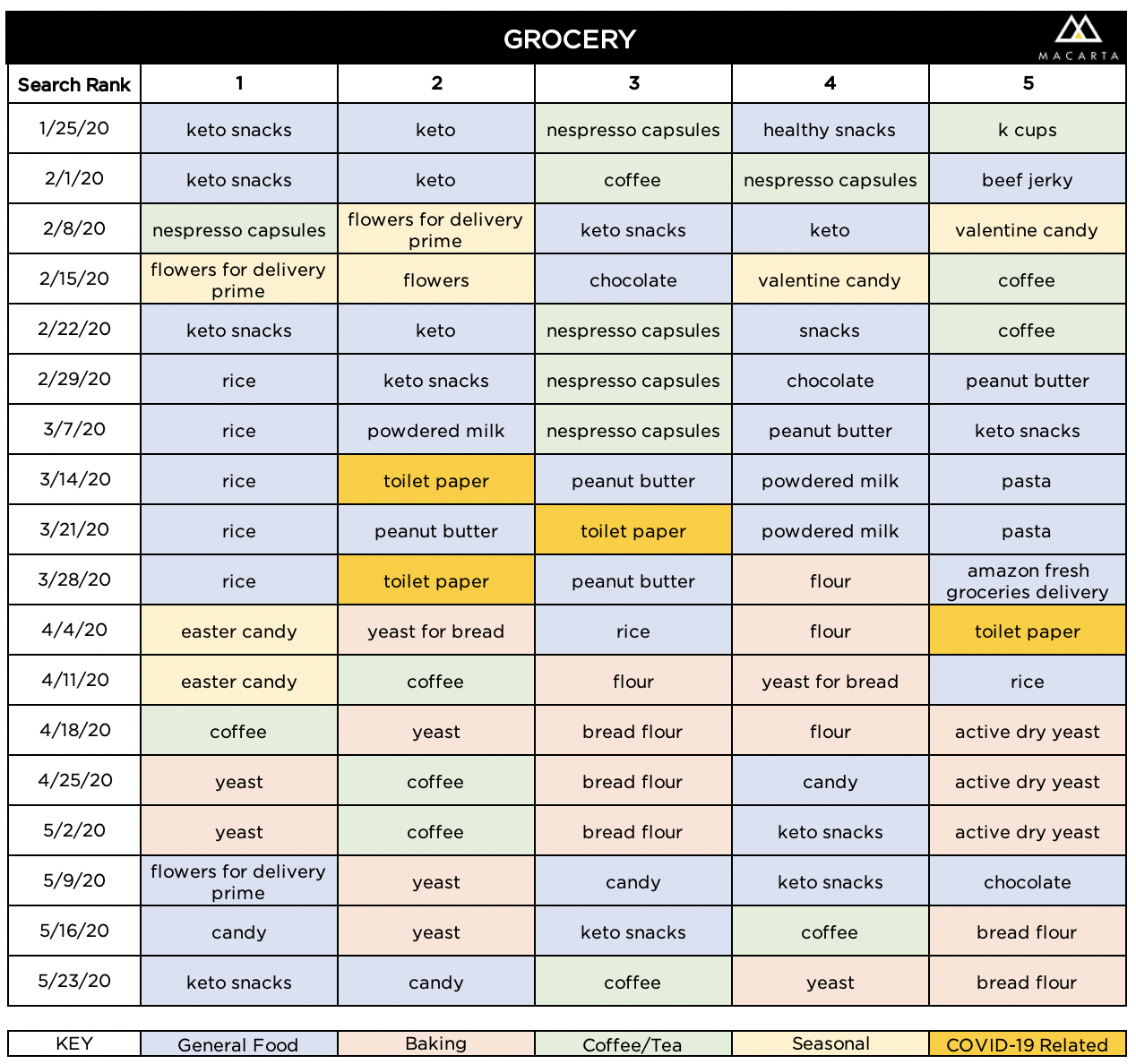 KEY TAKEAWAYS
As quarantine began "rice" took the #1 spot for 5 weeks in a row.

Searches in April prove that 2020's food of the year is banana bread.

Towards the end of lockdown, "keto snacks" started to see a rise, showing shoppers were beginning to think about life post quarantine.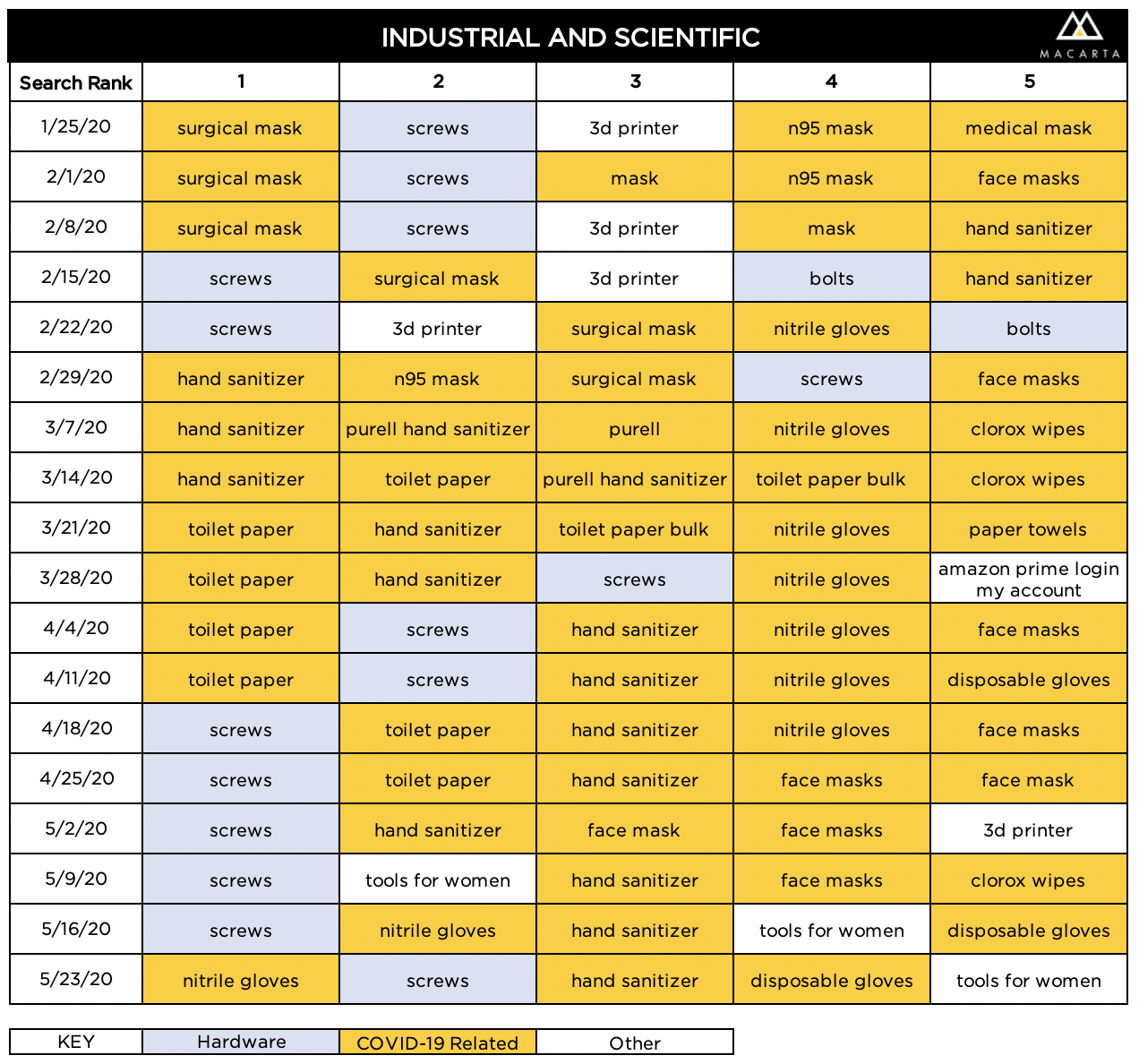 It's no surprise that COVID-related terms dominated in search. Top terms included:
Surgical mask

Hand sanitizer

Toilet paper

Gloves
In the toys category, "Puzzles for adults" was the #1 search term for a staggering 11 weeks from March 7 to May 16. 
As many states start to re-open, we will continue to track how world events influence consumer behavior on Amazon. To stay up to date with the latest news, be sure to follow us on LinkedIn and Instagram.