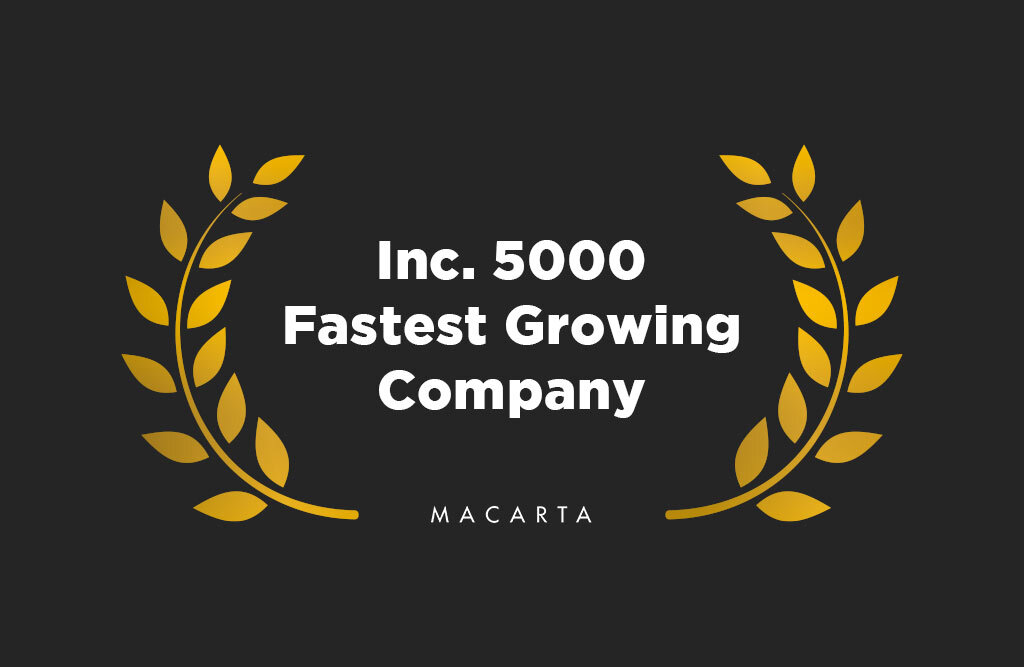 Macarta Awarded Inc. 5000, Fastest-Growing Companies of 2022
Improved Ranking, 2nd Consecutive Placement on Prestigious List
New York, NY — For the 2nd year in a row, Macarta has been officially recognized as one of the fastest-growing private businesses, claiming spot spot #1,124 on the annual Inc. 5000 list for 2022 — up 233 spots from last year's rank of #1,357.

The Inc. 5000 is a prestigious list that numerous companies vie for, the award represents a special insight into the most successful companies in America.
"It is an honor to be recognized for the second straight year by Inc. 5000 as one of the fastest growing companies. Our roster of Global Brand partners continues to grow and we value our relationships with each and every one of them. Kudos to the entire Macarta team for making all of this happen."

— Mike Hodges, Co-founder & CEO
A second consecutive award this year has also come with some other notable achievements within our industry and locally:
2022 National Rank: #1,124

2021 National Rank: #1,357

Advertising & Marketing, National Rank: #89
Colorado Rank: #41
Denver Rank: #30

As many companies continue to shake off the lingering impact of the global pandemic, adapt to new ways of doing business, and forge new creative paths within their ventures, Macarta is both proud, and thankful, to continue our growth forward. Consistency and year-over-year improvements for our long-standing brand partners has only further cemented our relationships and built upon mutual trust.

These actions and consistency have opened new doors for Macarta as we've struck new partnerships that have accelerated our growth in the U.S. as well as in our Mexico and Brazil offices.
"We are thrilled to be recognized by Inc. 5000 as one of the fastest growing companies, for the second year in a row! A big 'Thank You' to our incredible network of global brand partners, and our team's relentless drive to deliver a tailor-made, and consistently-excellent level of service around the world. We look forward to continuing to challenge ourselves, and our partners, to reimagine what a truly great agency relationship feels like."

— Stephen Reagan, Co-founder, VP Strategy & Client Services
It's this reimagining that allows us to be a different kind of agency; we don't have clients — we have brand partners. And while we leverage some of the most sophisticated tools and software available today, it's our nimble team of seasoned experts that set us apart from the crowd.

With a global footprint that continues to grow, Macarta's A–Z services within the Amazon marketplace have also earned us a spot as one of Amazon's Advanced Partner's within their directory of trusted agencies for services such as paid search and advertising strategies, content and creative optimization, on-site analytics, and more.

Check out the Inc. 5000 to see all of the companies that made this year's list.