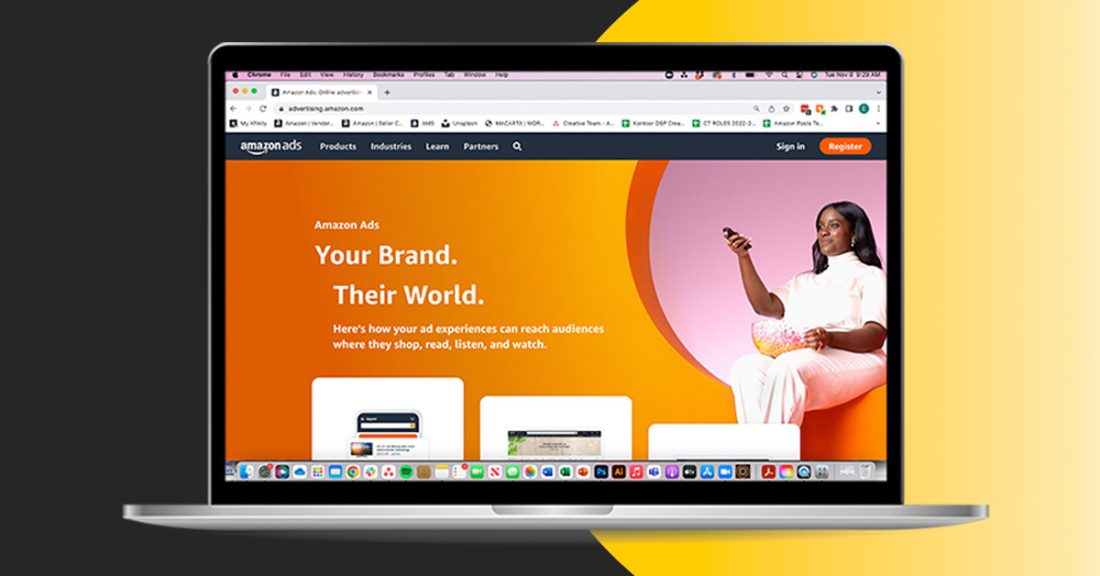 Key Takeaways from Amazon Ads #unBoxed 2022
With the Amazon Ads #unBoxed event come and gone, the future of reaching shoppers at any point in the customer journey is looking brighter. Amazon harvests a lot of data, and they're turning over new, valuable ad-product tools to their network of agency partners to help reach shoppers in new and creative ways. As the saying goes: the rising tide raises all ships.

New products mean there are some pretty big features and takeaways to discuss — we'll be covering:
Amazon Ad Products — Macarta's Top 6 
Amazon Ads API — What this means for Agency Partners
Pivoting Your Amazon Marketing Strategy: Content Creation, Brand Education, and 3 Key Takeaways
Amazon Ad Products — Macarta's Top 6
1. Sponsored Display — non-endemic (beta)
Good news for brands that don't sell on Amazon — you now have access to Sponsored Display Ads. While it had only been available to Amazon sellers before, Amazon has opened the door for businesses who, by nature, are unable to sell their product or service on the Amazon Marketplace, like restaurants and hotels.

Now, even more companies have the opportunity to reach Amazon shoppers, and in new places.

2. Audience Research (beta)
SEO and Paid Advertising are getting a huge bump with the Audience Research tool. With it, advertisers will now be able to get a clearer picture of who their target audiences are.

In addition to researching audience awareness and potential customers' perception of your brand, Audience Research assists advertisers in learning about the driving factors, inclinations, and shopping preferences of their audience segments. It also enables advertisers to compare responses across various audience demographics (such as age and gender) and lifestyle segments.

With these findings, advertisers have the opportunity to develop their audience strategy and identify personas that support the objectives of your campaign or brand.

3. Brand Impression Share (beta)
In an effort to assist advertisers with brand engagement, this dashboard gives a snapshot of your brand's share of voice for branded search terms among shoppers. While it is only available for Sponsored Products and Sponsored Brands, this new tool will offer actionable insights to help brands stay top-of-mind for Amazon shoppers.

4. Products Page
In the campaign manager, the new Products Page has a few new features:
Easily monitor ASIN performance metrics (i.e. Sales, Impressions, Clicks, Ad Spends, ROAS)
Improve ASIN listing quality with recommendations
Create new campaigns or add products into existing campaigns at an individual ASIN level, allowing advertisers to take actions all in one place
5. Amazon Marketing Stream (beta)
— Stream expanded from US to Global beta (except India)
Through the Amazon Ads API, Amazon Marketing Stream (beta), a push-based messaging system, automatically sends hourly campaign analytics to advertisers or agencies.

Presently, it supports Sponsored Products campaigns, offering close to real-time performance analytics to promote more effective optimization, agility in responding to campaign changes, and better operational efficiency to support business development for advertisers.

6. AMC and Sizmek Ad Suite Integration
Improve your understanding of your cross-media performance. Advertisers are now able to incorporate information from Amazon Ads media with specifics from larger media and creative plans thanks to Sizmek Ad Suite's (SAS) interface with Amazon Marketing Cloud (AMC).

Advertisers have the ability to develop sophisticated queries in a privacy-safe setting that assists in finding the answers to crucial inquiries about creative, target audiences, and the impact of your investment. Deeper insights may also be acquired so that you can enhance the results of your advertising campaigns via a holistic view of your complete media spend.
Amazon Ads API
The Amazon Ads API, according to Amazon, "enables Amazon advertisers and members of the Amazon Advertising Partner Network to programmatically manage advertising operations" via automation, scaling, and continuous optimization.

At the unBoxed conference, we learned that Amazon's goal with these new ad products is to tap into their network of agency partners, allowing them to access precious Amazon data. This is a win-win for a few reasons:
1. Amazon doesn't have to invest time or money into R&D costs, they get to outsource this by handing over the tools and allowing the agency experts carte blanche to innovate.
2. Agency Partners, being one step removed from Amazon, can be more objective with what works and what doesn't. They also have real-world data and experience to pull from with their own clients.
Pivoting Your Amazon Marketing Strategy
Content Creation
Also revealed at this year's unBoxed is a pivot in content creation philosophy, with a new, hyper-concentration on intentionality, humanization, and inclusivity. That includes adapting to a shifting landscape that includes serving Spanish speakers, both bilingual and those who only speak Spanish.

Case in point is the fact that 30 million Amazon U.S. shoppers browse in Spanish, out of 45 million total Spanish speakers in the U.S., representing 75% of that population. Additionally, there are 10 million bilingual Amazon U.S. shoppers that browse and search in English, but stream content in Spanish. These valuable shoppers highlight the ever-growing need to evolve beyond an English-only or English-first approach, especially since the United States is home to the 2nd largest population of Spanish speakers — and by 2050, 1 in 3 citizens will speak Spanish.
Brand Education
Also included in this newfound focus on intentionality and humanization is an emphasis on brand education. Part of this is informed by customers' desires, such that some 82% of shoppers want to buy from brands aligned with their own values.

As we wade into an uncertain 2023 economic landscape (i.e., a potential recession), one thing is certain: educating shoppers on the brands we represent will be crucial for success.

According to a Stanford Business article by Marnik Dekimpe titled "Business Cycle Research in Marketing", the 2001 recession spurred by the Dot Com bubble had little effect on demand and purchases for goods and services, while the 2008 recession caused by the subprime mortgage crash saw huge plunges in all areas of shopping, including non-durable goods and services as well as durable goods.

Since the current market is seeing slowdowns and record-high inflation due to the Federal Reserve raising interest rates, this (potential) recession, if it arrives, is looking like it will behave more like the 2001 recession. Demand is still high and will likely remain so.

Maintaining marketing budgets while pivoting in strategy during economic uncertainties can be effective, can mitigate deeper declines in sales, and can even potentially grow market share, if done pragmatically.
3 Key Takeaways
Here's 3 takeaways you can apply as we wrap up a tumultuous 2022:

1. Margins drive Ad Spend, NOT Demand
This is especially true of low-priced goods where a brand's name or identity isn't as important to a purchase decision (i.e. paper towels).

2. ROI is relative to the type of advertising
Lower-Priced Items: Advertisers can push more lower-funnel tactics since price-point is more important than the brand itself
Medium-Priced Items: Value-products, where customers are likely to switch to lower-priced goods during a recession, offers advertisers the opportunity to focus more on branding & awareness campaigns to reinforce why their brand is still a good option even if it's more expensive. Remember — 82% of shoppers want to buy from brands aligned with their own values.
Premium-Priced Items: Recessions have little effect here due to brand loyalists and customers with deep pockets.
3. Fill the Void, Seize Opportunity
When other brands pull out of advertising, it creates a void and an opportunity for others to swoop in and steal market share. During the 2008 Recession, RB, the makers of Lysol, increased their investment by 25% and saw a giant growth in market share.
---
Want to drive more consumers toward your brand? We can help! Macarta is a full-service marketplace agency specializing in retail media to drive growth and sustained success for its brand partners. Reach out to us here, and let's get started.