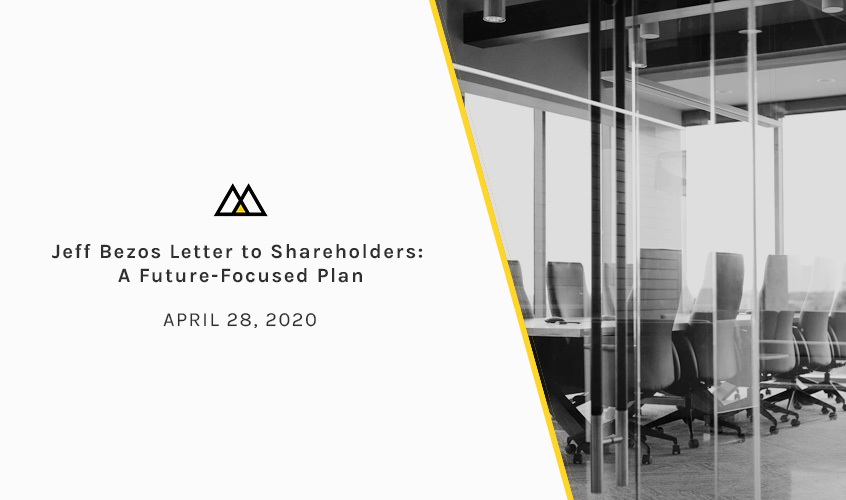 Jeff Bezos Letter to Shareholders: A Future Focused Plan
While Jeff Bezos has been writing a letter to shareholders since 1997, it's arguable that this year was his most difficult. Bezos noted that unlike the holidays or other seasonal surges, the company has struggled to maintain regular supply and delivery standards as they prioritize essential goods and products. But customers have seen delivery times start to lessen as Amazon improves and refines their processes. 
In the wake of current events, we have seen that even Amazon is not financially unaffected by or even exempt from social criticism. However, Bezos outlined ways the company is striving to do right by its employees and customers in this uncertain time.
Staying Safe
Bezos made one of his first notes in the letter safety. He discussed measures that Amazon has taken at Whole Foods Market to keep employees safe, but largely focused on the topic of regular testing, making a bold announcement:
"We've begun the work of building incremental testing capacity. A team of Amazonians—from research scientists and program managers to procurement specialists and software engineers—moved from their normal day jobs onto a dedicated team to work on this initiative. We have begun assembling the equipment we need to build our first lab and hope to start testing small numbers of our frontline employees soon. We are not sure how far we will get in the relevant timeframe, but we think it's worth trying, and we stand ready to share anything we learn."
How Amazon is Protecting Customers
Over the last few weeks we've seen the first legal action taken against people trying to capitalize on the pandemic. Within days of quarantine, Amazon started to take measures against price gouging on the platform and since then their work has not stopped. 
"Amazon is acting aggressively to protect our customers from bad actors looking to exploit the crisis. We've removed over half a million offers from our stores due to COVID-based price gouging, and we've suspended more than 6,000 selling accounts globally for violating our fair-pricing policies." Bezos also said that the company has turned over related information to state attorneys general offices in an effort to help further fight against this behavior.
AWS and Future Technologies
Information is power, now more than ever and Bezos took the time to explain how Amazon Web Services (AWS) is playing a role in COVID-19. "Amazon Web Services is also playing an important role in this crisis. The ability for organizations to access scalable, dependable, and highly secure computing power…is critical in this situation."
Bezos isn't just focused on current AWS applications, he also announced a new program that is focused on treatment, and committed  $20 million from Amazon to the cause. "We also launched the AWS Diagnostic Development Initiative, a program to support customers working to bring more accurate diagnostic solutions to market for COVID-19. While the program was established in response to COVID-19, we also are looking toward the future, and we will fund diagnostic research projects that have the potential to blunt future infectious disease outbreaks."
Moving Forward
Unlike previous years, Bezos only focused on two of the company's achievements from 2019. First, the company's environmental efforts:
The company co-founded The Climate Pledge and became the first signatory to the pledge. The pledge commits Amazon to meet the goals of the Paris Agreement and be net zero carbon by 2040. 

Amazon plans to purchase 100,000 electric delivery vans from Rivian—a Michiganbased producer of electric vehicles. Amazon aims to have 10,000 of Rivian's new electric vans on the road as early as 2022, and all 100,000 vehicles on the road by 2030. 

Amazon is committed to reaching 80% renewable energy by 2024 and 100% renewable energy by 2030.

For the last decade Amazon has implemented their FrustrationFree Packaging program and since the program has saved more than 810,000 tons of packaging material and eliminated the use of 1.4 billion shipping boxes. 
The second achievement Bezos focused on was their $15/hour minimum wage and education efforts. Bezos notes that since raising their minimum wage in 2018, their employees have felt the meaningful impact that comes with this pay and comprehensive benefits, including health insurance, a 401(k) plan and 20 weeks paid maternity leave. As he has done before, Bezos called on other companies to join Amazon and meet their minimum wage.
Final Thoughts
With a future still in flux, and many still at home, people are turning to Amazon and Whole Foods Market grocery delivery now more than ever. Bezos even pointed out that their studies have shown online shopping can actually have a lower carbon footprint than shopping in stores, so while you're on your couch, you can hit 'add to cart' with a little less guilt.
Read more: 2018 Letter to Shareholders