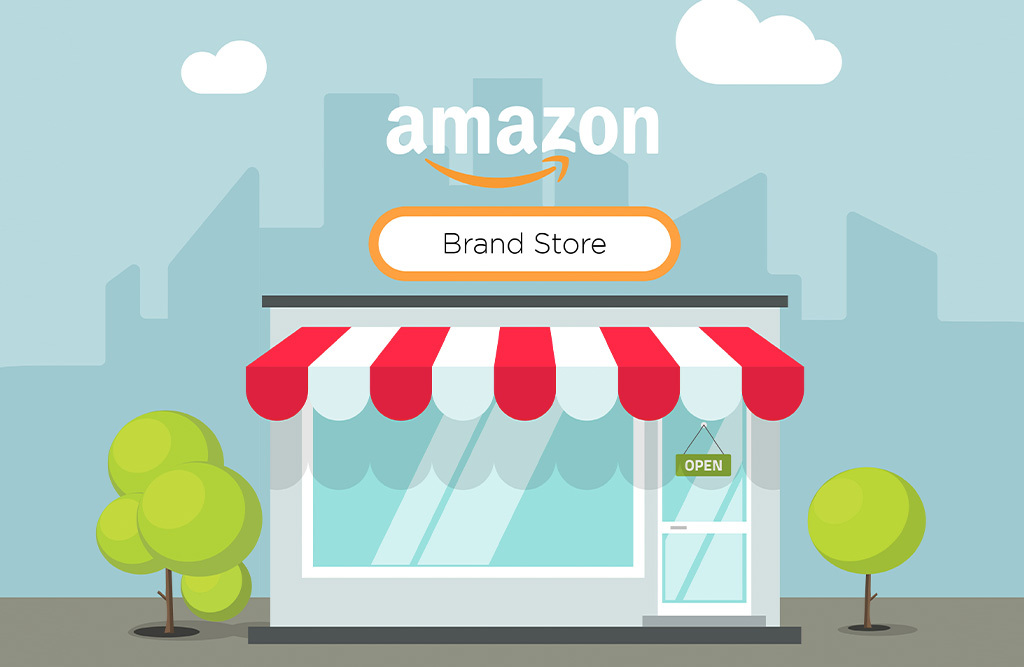 A Complete Guide to the Amazon Brand Store
Over the past few years, Amazon has implemented additional visual elements into its site design to better connect the brand to its shoppers. The most impactful of these is the Amazon Brand Store — a crucial marketing opportunity to deliver an immersive, informative, and user-friendly shopping experience for your customers.

In this Complete Guide to the Amazon Brand Store, we'll review:
What is an Amazon Brand Store?
Who can create a Brand Store?
Benefits & Key Features
Best Practices & Opportunities
How to start an Amazon Store
Brand Store Strategies
What is an Amazon Brand Store?
An Amazon Brand Store is a shopping experience within the Amazon site that serves as a dedicated storefront for brands.

Although Amazon's user interface (UI) and user experience (UX) over the last decade have retained a familiar feel, it's important to remember that the site is very unique and functions differently from most other e-commerce sites. Traditionally, shoppers have come to Amazon in search of a specific product, not necessarily for brand discovery — at least until now.

Before brand stores, shopping on Amazon was akin to browsing through an open air marketplace: there are multiple vendors, many of whom are selling the same or similar products, oftentimes selling the same brands.

Amazon has always positioned itself as a consumer-focused platform, naturally leading to an emphasis on products, not brands. Until the last few years consumers have come to Amazon for a brand-agnostic experience – leading to limited repeat purchases of both the vendor and product. The enhancements of the Amazon platform have developed a more hospitable sales channel for brands to connect with their customers and reach a wider range of consumers.

Through the brand store, shoppers can immerse themselves in both product and brand discovery. You want to buy some jeans? You can visit the brand store, browse fits, explore curated collections, and find a denim jacket to match. This shift helps improve the shopping experience for customers since it mirrors what they're used to seeing on each brand's dotcom site.
Who can create a Brand Store?
An Amazon Brand Store can be created by the following:
Vendors (1st Party) — Large distributors and direct manufacturers
Sellers (3rd Party) — Typically smaller sellers who are moving part (or all) of their catalog to Amazon
And by Agencies through their 1P/3P brand partners:
Agencies — Since Amazon requires dedicated expertise and a holistic creative strategy, it is helpful to work with an agency that can guide, advise, and set up Amazon features
Benefits & Key Features
By keeping shoppers engaged longer with new ways to explore your product catalogs, an Amazon Brand Store can increase conversion, create repeat business, and foster customer loyalty. You also create the opportunity to reach even more audiences as your organic rank increases and entice new customers with an attractive storefront.

There are a few key features that have been updated to increase the overall shopping experience:
Brand Store Navigation
In the past, brand stores had extremely limited options and functionality for sellers and customers, respectively. However, with Amazon's recent commitment to improving the shopping UX, navigation has become a much more user friendly experience. Brands are able to integrate more seamlessly thanks to design customization capabilities, giving sellers an easy plug-and-play approach to capitalizing on the brand store that doesn't stray from their brand identity.

Additionally, individual tabs and sub-category organization are much easier than in the past. Amazon has also introduced the ability to add your brand logo to the navigation bar, giving users a quick and easy, not to mention familiar, way to jump back to your brand store home page.
Brand Store Videos
With improved video capabilities, there's even more opportunity to increase sales through your brand store, especially considering that 70% of all customers use videos to make a buying decision. From branded and lifestyle content to instructional videos, these are key opportunities to set your brand apart from the competition, show off amazing new features, and connect with your customers on a deeper level by articulating brand values, and more.

Looking for help with you Amazon Video Strategy? Check out our in-depth post:
How to Create a Video Marketing Strategy for Amazon
Best Practices & Opportunities
Homepage
The homepage is the very first point of engagement for shoppers who land in your brand store, so make sure to leave a great first impression! To deliver the best shopping experience, keep the following in mind:
Feature top-selling products front and center
Organize your navigation by categorizing your catalog
The importance of video cannot be stressed enough
Keep it fresh – update the store seasonally
Take advantage of new brand store features
Since your brand store is where customers will first connect with your brand, find crucial information, and see popular products, make sure you create a clean navigation that organizes product categories simply and logically.
Navigation and Sub-Pages
Depending on what industry your brand is in will largely depend on how you organize your navigation — only you know how best to serve your customers in this way. These pages can include additional product specs, information about the brand, brand imagery, and more. When it comes to your Amazon Brand Store, there's a lot of room for creativity.
Brand Store Examples
Brand Store Opportunities
Add engaging visual assets like videos, images and other content
Regularly access the brand store analytics to continuously optimize
Create a vanity URL that directs to your brand store. This URL can be used to direct traffic to your Amazon store from external locations. EX: amazon.com/yourbrand
How to start an Amazon Store
Starting an Amazon Store is pretty straightforward, but there are a few key steps that need to be followed in order to get your brand up and running in the shortest time.
1. Create an Amazon Seller Account
Amazon will want to verify that you run a legitimate business and will contact you via phone. The e-commerce giant is also very selective about who may join so make sure you have all the necessary documentation you may need to get up and running quickly such as your Federal Tax Identification number, business structure type, state registration, etc.
Start by going here to create your professional seller account.
2. Get registered with Amazon Brand Registry
Once approved as an Amazon Seller, you'll want to register with the Amazon Brand Registry to unlock premium options for your content and proactively protect your brand from counterfeiters.

You'll need to provide some more complex info to get verified, but it will be completely worth it. Amazon will require the following:
Brand name that's registered with the United States Patent & Trademark Office (USPTO)
USPTO registered serial number
List of countries where your products are manufactured as well as distributed
Product images, product label, and brand name as it appears on products
Brand name's image on your product

To get registered, you can visit the Amazon Brand Registry page.

3. Create a Brand Store Homepage
Once your registration has been completed and your brand is fully verified, go to your Seller Central account and navigate to the Stores tab where you'll find the Manage Stores option. Once you click in, you'll see which of your brands have the ability to create a store (based on verification).

After that, it's as simple as using the templates and content tiles to build the pages within your store!
Need help creating a professional brand store?
Reach out with the form below and let us know, we'd love to help!
Brand Store Strategies
When creating a brand store, it is important to ask yourself a few questions to help inform your strategy:
How large is your brand?
Does your product require additional context or setup instructions?
What sets your brand / product apart from its competitors?
Do you have cohesive branding assets?
How large is your catalog?
All brand stores are not created equal. The answers to these questions are crucial when beginning your build — they will not only help you navigate layout choices, but they will set the stage for continuous learnings and ongoing optimizations.

The Amazon brand store comes with (sometimes strict) creative guidelines and module restrictions, but there are ways you can maximize what you're given to create an intentional branded experience even within the confines of Amazon.
Guidelines & Specs
When it comes to making your brand store look top notch with a professional feel, there are several creative guidelines that must be followed in order for your store to be approved by Amazon. Whether product videos, lifestyle images, headers, banners, or text tiles, you can also increase the impact your content has on shoppers by strategically incorporating best practices such as safe zones and optimizing your assets for mobile.
For a complete list of specs, requirements, and best practices,
check out Amazon's Store Creative Guidelines.
Seasonal & Annual Changes
Once your Amazon Brand Store is up and running, consider planning for seasonal updates and annual refreshes to stay on the cutting edge of what your customers will expect. Annual updates should be a standard practice to keep content, and assets, fresh to give repeat customers new and engaging content to bring them back again and again.

Ready to take your brand to the next level with a dedicated Amazon Brand Store? Tap into our team of experienced creative masters who will help you build a brand store that drives traffic, increases sales, and captures new to brand consumers. Contact us here!