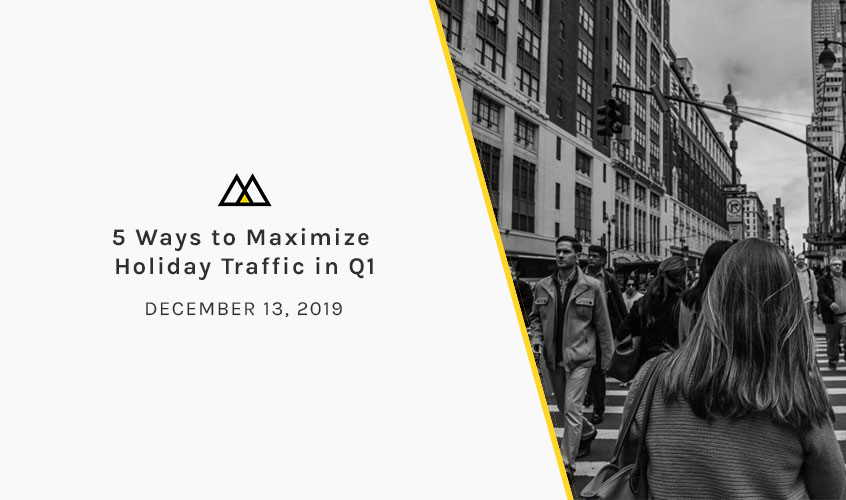 5 Ways to Maximize Holiday Traffic in Q1
We're in the final stretch of the holiday season but now is the time to start planning for Q1. So you've seen huge success this holiday season – now Q1 is the time to capitalize on that momentum as you enter the New Year. Here are 5 ways you can set yourself up for success in Q1 and bring in 2020 with a bang.
1) Set Expectations coming off the heels of a hot Q4. It's important to manage your expectations going into Q1. Use last year's Q1 as a benchmark and measure performance from there.
To help set up your budget, have a clearly defined ROAS or ACoS target for Q1. Also remember that lowering your ACoS is not always the answer to your problems. Your Q4 the goal may have been to cut through the saturated competition regardless of cost, but Q1 is a good time to lay a solid and sustainable foundation for your ads to build off of for the rest of the year.  
2) Retarget Customers who shopped during the holidays. Utilize the DSP to remarket to users who were browsing your products, but didn't complete the purchase to close the purchase gap. Most browsing sessions don't end with a purchase, so continue to encourage the sale as consumers browse the web, both on and off Amazon. This is a great time to test new ad formats that feature special headlines to really engage with your audience and their needs.
3) Review Successful Campaigns from the previous year and develop new iterations. Be prepared that impressions and clicks may naturally decrease due to the change in traffic on Amazon, but this doesn't mean you don't need to optimize. A lot of brands start to pull back on advertising in January, so it's a good time to maintain competitive keyword bids since you'll have less competition and a greater chance of your ads being served. 
4) Update Content and clear out holiday messaging and imagery. It's important that you refresh ad copy for Sponsored Brand ads. Shift gifting messaging to new year/new you and update holiday messaging to cold weather and winter. Make sure your brand store is updated so any ads you have ads leading to a holiday brandstore featured page reflect the new year.
5) Start Planning for Q1 holidays. While these holidays may seem small, certain products may sell especially well during Valentine's Day. Season products will also do well. Never miss an opportunity to join in on the fun, smaller holidays on social media. Use your social media channels to showcase your brand's personality, join a larger online conversation and push your Amazon page.
Superbowl (February 2)

Chinese New Year (February 5)

Valentine's Day (February 14)

St. Patrick's Day (March 17)
Need more help looking toward 2020? We can help: