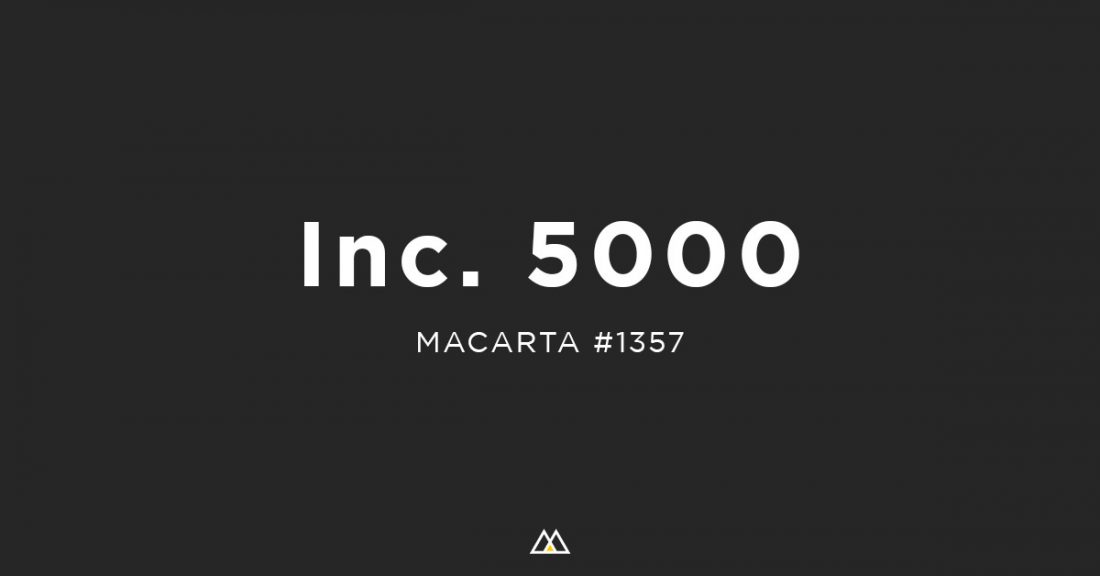 Macarta Joins Inc. 5000, America's Fastest-Growing Private Companies of 2021
New York, NY — Macarta has been officially recognized as one of the fastest-growing private businesses as it claimed spot #1,357 on the annual Inc. 5000 list for 2021. A prestigious list that numerous companies vie for, the award represents a special insight into the most successful companies in America.
"Since 2016, we have built Macarta brick by brick into one of the leading Marketplace Agencies in the world. Being recognized as #1,357 on the Inc. 5000 — with revenue growth of 352% over the last three years — is a testament to our very experienced team, the relationship we have with our global brand partners, and the culture we have fostered."

— Mike Hodges, Co-founder & CEO
While the list is an invaluable achievement in any year, this year's award rings even louder as it takes into consideration the resiliency, flexibility, and tenacity of overcoming the unprecedented challenges that 2020 brought.

​​"The 2021 Inc. 5000 list feels like one of the most important rosters of companies ever compiled," says Scott Omelianuk, editor-in-chief of Inc. "Building one of the fastest-growing companies in America in any year is a remarkable achievement. Building one in the crisis we've lived through is just plain amazing. This kind of accomplishment comes with hard work, smart pivots, great leadership, and the help of a whole lot of people."

In the wake of a global pandemic, the progression of cultural trends, shopping behaviors, and the evolution of business were accelerated into high-gear, creating new opportunities for brands. Amazon was chief among those as many businesses sought to adapt to stay-at-home trends and expand their reach into a channel where they had little to no official brand presence.
"It's an absolute honor to be recognized as one of Inc. 5000's Fastest Growing Private Companies in America. We are so proud of the team of experts who continue to challenge the status quo and find creative — and data-driven — ways to add value to our brand partners.

In 5 short years, Macarta has grown from a 2-person team with a great idea to now having offices in Denver, San Diego, Mexico City and São Paulo — with teams executing robust content and paid marketing strategies on behalf of some of the world's largest brands."

— Stephen Reagan, Co-founder, VP Strategy & Client Services
Tapping into the exponential growth and opportunity that the Amazon marketplace offers, Macarta is a marketing and sales agency with A–Z services. While we leverage some of the most sophisticated tools and software available today — it's our nimble team of seasoned experts that set us apart from the crowd. Macarta strives to be a different kind of agency; we don't have clients, we have brand partners.
Thanks to our ample experience managing and growing global brands, we help our brand partners increase revenue and maximize profits with cutting edge paid search and advertising strategies, content and creative optimization, on-site analytics, and more thanks to a holistic, data-driven approach.

Check out the Inc. 5000 to see all of the companies that made this year's list.