Amazon Updates FBA Storage Fees 2018
Spring is around the corner, and with spring comes new updates to Amazon's fees. Beginning in April 2018, Amazon will roll out new FBA storage fee changes. We know these changes can often seem overwhelming (let's be honest, no one can keep up with all of the Amazon updates anyways), but we're here to give you a quick overview so you can prepare for the changes that could potentially affect your account.
Overview: New FBA Changes:
Monthly Inventory Storage Fees: Starting April 1, 2018, monthly inventory storage fees will increase by $0.05 per cubic foot for standard-size and oversize items. These charges will first occur in May 2018 for storage that occurred in April.
Long-Term Storage Fees: Starting September 15, 2018, long-term storage fees will now cost $0.50 per unit which will be charged monthly instead of annually.
Minimum Long-Term Storage Fees: On August 15, 2018, Amazon will introduce a minimum charge of $0.50 per unit per month for items in fulfillment centers for 365 days or more. The greater of the applicable total long-term storage fee or minimum long-term storage fee will be charged.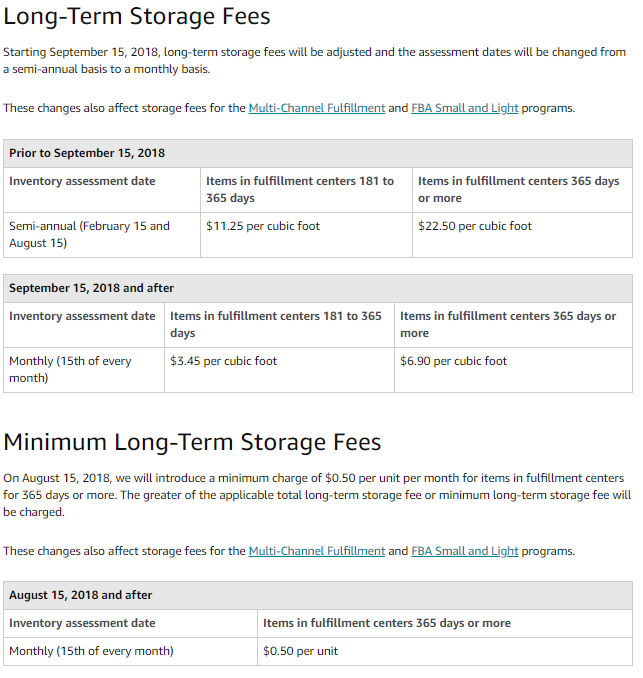 Example A: If Brand A sent 10 units to the FBA facility on January 1, 2018, and on January 2, 2019, there are still 5 units left, Brand A will be charged $0.50 per unit ($2.50) in addition to the cubic foot fee. After 365 days every unit still in storage will yield this monthly long-term storage fee until the inventory sells out or is removed from the warehouse.
Example B: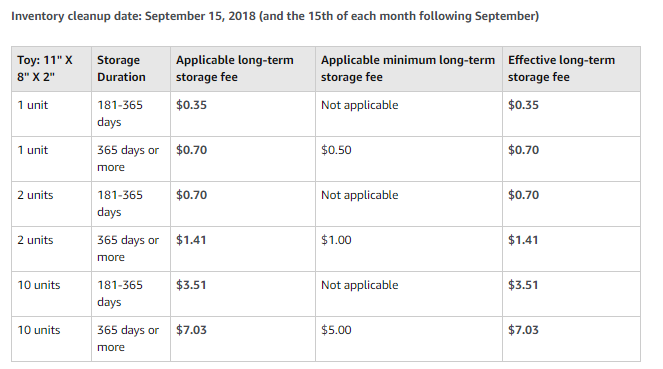 Q: When do I get charged these fees?
Long-term storage fees are going from twice annually to every month beginning August 15th.
Q: How do I know which products will be charged these fees, and how much I will be charged?
"You can use the Inventory Age and Inventory Health reports (sign-in required) to identify which ASINs in your inventory are subject to the long-term storage fee. For each ASIN, you can view your inventory by the amount of time it has been in an Amazon fulfillment center. This information can help you estimate the number of items that will have been in our fulfillment centers for six months or more in advance of the next inventory cleanup date." (Amazon 2018).
Q: Can I remove my inventory from the warehouse to avoid these fees?
The short answer is yes, but we tend to advise against it. According to Amazon, "Requests to remove inventory subject to long-term storage fees will prohibit additional units of those ASINs from being shipped to fulfillment centers until a specified date. Inventory requested for removal through Automated Long-Term Storage Removals Settings will be similarly impacted. You can continue to sell your remaining fulfillment center inventory of these ASINs. The ability to send in additional units of an ASIN may be regained if inventory levels fall below our projection of its sales for the next eight weeks. This projection is based on sales of the ASIN from the past 90 days."
Q: What can I do to prevent these fees?
Consider JIT (just-in-time) inventory management. Keeping an excessive amount of FBA inventory means higher monthly fees – it will cost you to be overstocked and you have a more pressure to eat through stagnant inventory. JIT inventory requires strategic planning behind when inventory is sent to a FBA warehouse. It may add a little more planning, but it can help save you money.
Q: Are there any benefits?
We get it – it's hard to see benefits in being charged more for storage in the Amazon warehouse. Amazon is a great network for fulfillment options, but at the end of the day, they are not a warehousing solution. Incorporate these fees into your pricing structure or think about creating a separate warehousing solution. These changes force you to encourage a better inventory turn and streamline your warehousing processes. Look at it as a spring cleaning.