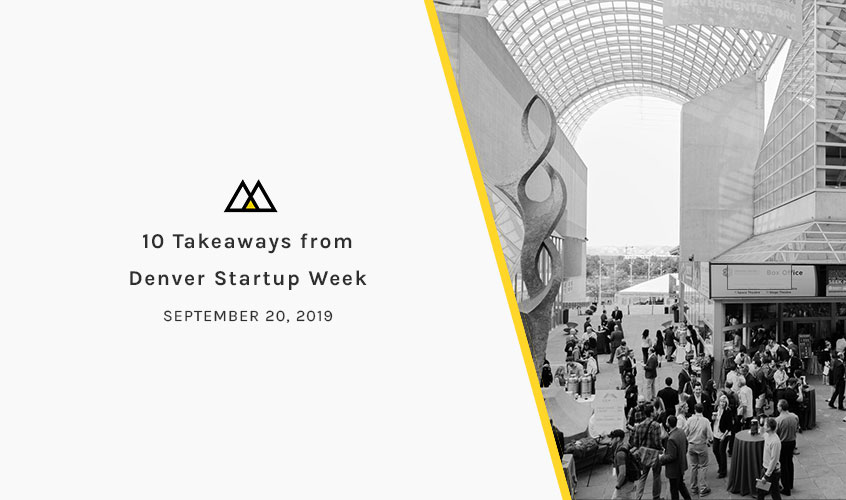 10 Takeaways from Denver Startup Week 2019
This week members of our team attended Denver Startup Week 2019. This incredible week long (free) event hosted 417 events and is designed to bring together innovators and creators within the community to network and learn. 
At Macarta, we were excited to attend sessions about marketing, photography and the larger content landscape to spark new ideas about our approach to the Amazon world. Here are 10 Key Takeaways we learned from the conference:
A great story will make you feel one, a combination of or all of the following: Enlightened, inspired, excited and/or motivated.

If your story isn't sparking one of those emotions, it's not a story worth telling.
Every company is a media company.

No matter what your product is or what service(s) you offer, you are also a media company with a unique story to tell. Your company helps solve a problem, that's why it exists. Tell a story on your website, blog or social media channels explaining the solution you offer.

Figure out the real story behind your company.

On the surface, you sell the most high-tech, aesthetically pleasing coffee maker. But really, you're company is all about making mornings more enjoyable. You help provide a crucial component to your customers' work day. You've made an appliance that also decorates people's kitchens. You're more than a 1-minute brewing system. Tell that story.

Photography helps establish a tone and feeling that other materials cannot.

Images really are worth a billion words and help capture details that even the best copywriter cannot.  

Your customers are your community,

and their opinion of your product is paramount. The images you choose to represent your brand are a visual representation of your community. Give them something to talk about and encourage others to engage. Post the type of photography you want to see being fed back to you.

User Generated Content gives your brand credibility with authentic, organic, genuine content.

Leverage influencer marketing to help provide a new perspective to your products.

Customers look to influencers that represent their life, so seeing their favorite influencer use your product helps them envision themselves doing the same. It's an $8 billion industry for a reason.

Be patient.

As long as you are creating a conversation, customers will follow.

Don't get discouraged if you aren't seeing the results you're after. Don't buy engagement, simply stay the course.

A content strategy helps your team prioritize

, stay on the same page and keeps everyone accountable. Use your content strategy as a way to help guide your internal team as well as share your information and knowledge with customers.

Your content strategy needs to be informed based on your business goals. If you don't have business goals in place, you can't have a content strategy.
Help your business development

team by creating content that they can use as well like eBooks and case studies.
Thank you Denver Startup Week for hosting a great event! We loved connecting with others in our industry, hearing about the latest and greatest in marketing and content. We'd love to connect with you online as well, so be sure to follow us on our social media channels.
LinkedIn | Instagram | Facebook