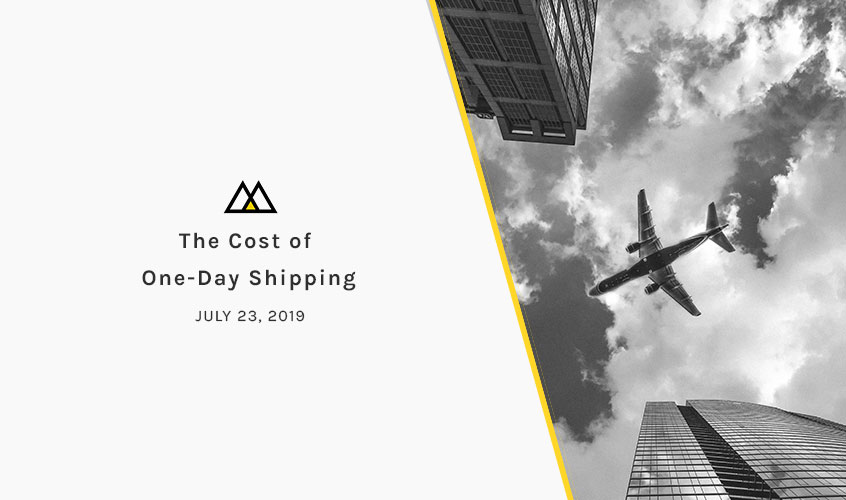 The Cost of One-Day Shipping
In May of 2019 Amazon announced plans to invest $800 million dollars into their business to develop one-day shipping. Scaling for growth, Amazon plans on adding 31 fulfillment centers in 2019 and 2020 to the existing 139. While it may seem like a dream to have just one sleep between you and a restock on dog food, fast shipping comes at a cost.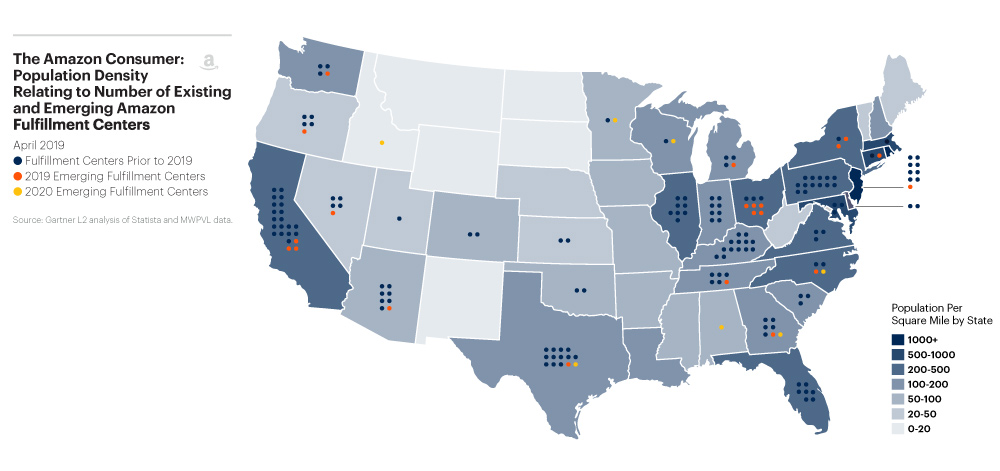 Source: GartnerL2
Here's some of what we know about customer's expectations and online shopping habits:
69% of consumers are less likely to shop with a retailer in the future if a purchase is not delivered within 2 days of the date promised.
63% of online shoppers cite excessive shipping fees as a reason that they have canceled a purchase.
Amazon Prime members spend $1,400 per year on average compared to $600 for non-Prime members.
What this means: Customers want fast, free shipping, and they're willing to spend more when that's the case. Since Prime members spend more than double what non-prime members spend annually, Amazon sees the nearly billion dollar investment as worthwhile for their customers.
The Amazon Bandwagon
Since Amazon leads the charge in e-commerce, it's no surprise that Walmart and Target quickly announced their own plans for one-day shipping. In a world filled with instant gratification, it should come as no surprise that "99% of U.S. consumers say 'fast delivery' is important to them when making online purchases." Aside from the monetary cost of one-day shipping, there is an environmental cost.
Fast Shipping Isn't Green
There is a substantial difference in the environmental impact between one-day shipping and two-day shipping. "I don't think the average consumer understands the environmental impact of having something tomorrow vs. two days from now. The more time you give me, the more efficient I can be," says Patrick Browne, director of global sustainability at UPS.
University of Washington professor Anne Goodchild has been thinking about the environmental impact of shipping since her 2012 study with grocery deliveries. She found that efficient grocery delivery can cut 80-90% of carbon emissions compared to shoppers using their own cars to go to the store. However, one-day shipping allows for less consolidation, eliminating the environmental benefit to online shopping.
What You Can Do
"I think everyone should care about it," said Sharon Cullinane, a researcher at the University of Gothenburg in Sweden, thinks that "everyone" should care about the environmental impact of online shopping.
So what can you do? You don't have to abandon your cart but rather, use it wisely. When you can, make multiple purchases at once when shopping online (although the occasional 2am order is bound to happen). We also recommend getting rewarded! Amazon offers $5 coupons for Prime Now when you opt out of two-day shipping. That way, Amazon can plan their deliveries and you can save money.