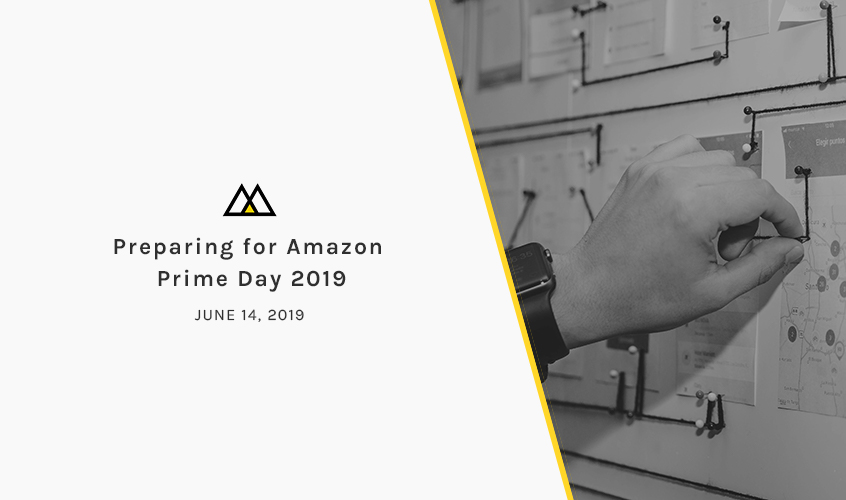 Preparing for Amazon Prime Day 2019
UPDATE 6/25/19: Amazon has officially announced that Prime Day will take place Monday July 15 and Tuesday July 16.
It's Christmas in July for the Amazon world come the week of July 15th. We're about a month out from Amazon's fifth annual Prime Day, which has evolved into a week-long sales event filled with incredible deals across every category for Prime Members. Here are some of the most important details you need to know to set yourself up for success on Prime Day:
What We Know
Prime Day 2018 was the biggest event in the company's history, breaking numerous records:
Over 100 million products were sold

July 16th had the most Prime member sign ups than any other day in the company's history

2018 was the first year that Amazon owned Whole Foods. Shoppers were offered $10 in Amazon credit if they spent $10 on groceries.
Tech and home products typically land as top sellers during Prime Day, but Prime Day is a great opportunity to build product and brand awareness with new Prime members and those browsing the site for deals
2018 Top Products by Country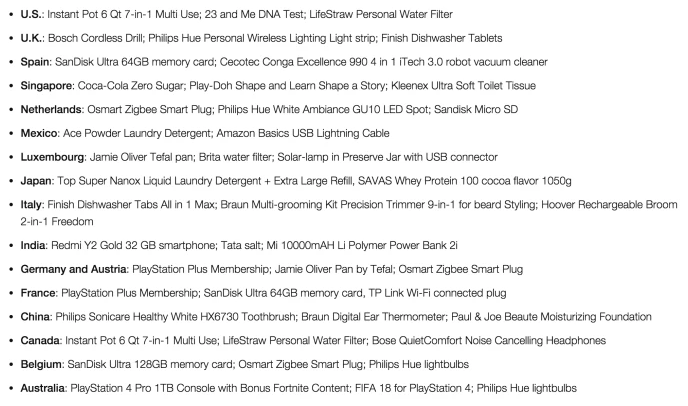 Source: Tech Crunch
Advertising for Prime Day 2019
Prime Day is a month-long marathon, not a sprint the day of. It's crucial to pace your advertising budget over the course of the month so that you are not only targeting customers while sales are happening, but also before and after.

It's important that you have enough money set aside to increase brand awareness leading up to the sale as well as to re-engage customers after the event.
It's also important to know the best type of ads to use during Prime Day to maximize sales:
Using Sponsored Product Ads during Prime Day:
Strongest Converting ad type

Help promote individual product listings

Increase KW bids and budgets before prime day and decrease KW bids and budgets after prime day so you're not paying more than you need to in an ad auction.
Using Sponsored Brand Ads during Prime Day:
Great for brand awareness

Driver shoppers to your brand store so shoppers can see your full variety of products, potentially leading to a higher conversion rate.
Prime Day Lead Up
Inventory: Finalize what products you will be advertising and make sure you have enough inventory to support the sale.

Budget: Start increasing budgets by 25-50% and keyword bids by 10-15%
Prime Day Week
In 2018 Sponsored Ads saw a 5x increase in ad attributed sales. Make sure that you are closely monitoring all of your campaigns so that you do not run out of your daily budget.
Inventory: Make sure that you continue to have enough inventory in stock to help your ranking and support sales.

Budget: Increase keyword bids again by 10-15% the day before, on and after Prime Day. Following this, you can scale back on your budgets before starting the next week.
Post Prime Day
In 2018 search volume increased by 20% post Prime Day in a 14 day period. Now is the time to re-engage customers who didn't take advantage of Prime Day or are still looking to make more purchases.
How to Measure Prime Day Success
Remember, Prime Day is a great opportunity to promote the value of your brand. Measure your Prime Day success based on the following metrics:
Branded search

New-to-Brand Sales

Retail Insights
It's not too late if you still need help preparing for Prime Day 2019. Macarta can help: